Wikipedia's aim of promoting knowledge has many points in common with Joan Miró's collaborative and educational spirit. Àlex Hinojo, Project Director at Amical Wikimedia – the association that promotes the Catalan version of Wikipedia known as Viquipèdia and free knowledge in Catalan – provides his personal view of Wikipedia's mission and finds parallels with Miró's urge to make art available to everyone. Like the articles in Wikipedia, this blog belongs to everyone, and, much like the free encylopedia, it is a space of constant transformation.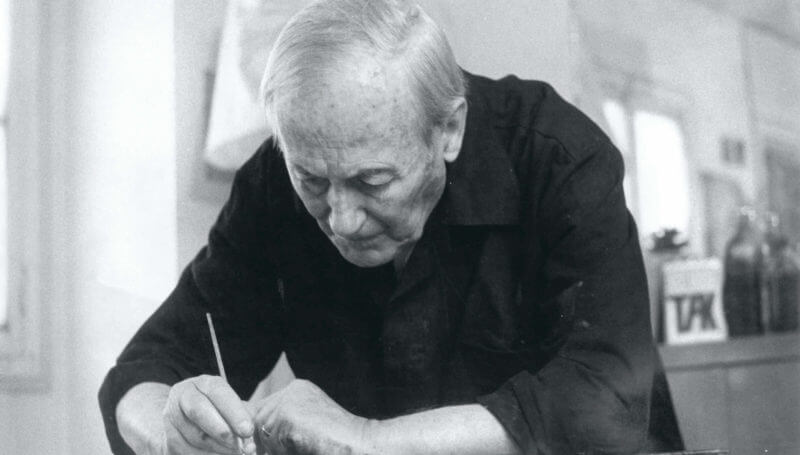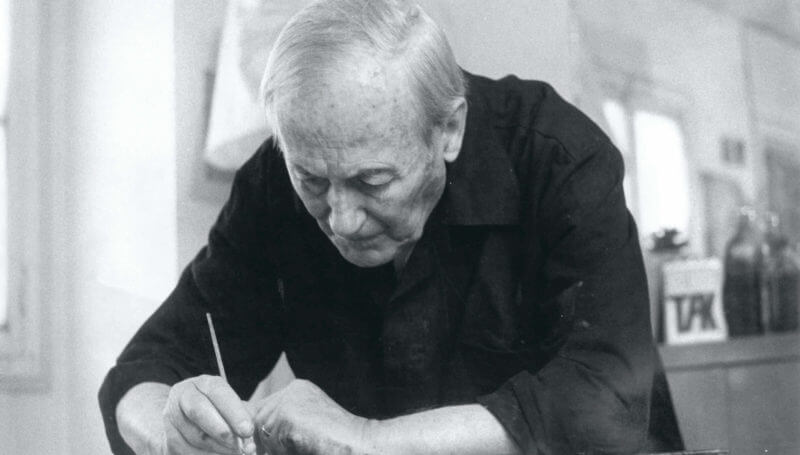 Joan Miró, Paris, 1971
© Clovis Prévost
Would Joan Miró make a good Wikipedian?
In recent years, I have produced dozens of articles about Joan Miró's work in several languages for Viquipèdia, the Catalan version of Wikipedia. I have gone through books, articles, videos, and as much of the available reference material as possible to document the famous Catalan painter. Why do I do it? I don't have one single answer: to share my passion, to keep the Catalan language alive on the Internet, to learn while I spread the word about the things I like.
Editing Wikipedia is a combination of putting together a huge puzzle where all the pieces are connected and being a homespun detective of sorts, rifling through books, websites and periodical archives in a quest to find the source that will validate something you know you read, but can't remember where. You contribute with the satisfaction that your pastime will be useful to thousands of people, and with the assurance that at any moment someone else can improve or challenge what you have written. The articles don't belong to 'no one': everyone can contribute to them.
Joan Miró wanted art to become a part of people's everyday lives, and with Wikipedia, we want the sum total of human knowledge to reach everyone, openly, free of charge, and in each person's language. Miró didn't discuss painting, because he said he wasn't interested in it. To him, painting was a vehicle of expression for the spirit, which is the only thing of interest.[1] As I see it, Wikipedia – as an encyclopaedia – is also just a tool, a tool that allows me to share information with the greatest possible number of people, focusing on the ultimate goal of collaborating to shape the critical spirit of mature citizens who question the world they live in. Wikipedia isn't reliable? Nothing is. That happens to be what I like best about it. It's like the scientific method, questioning everything by default. We Wikipedians wants people to read, compare, research, and question everything. Without exception.
Would Joan Miró have been a good Wikipedian? I think so. And a good one, too. Let me tell you why.
Miró collaborated
Throughout his career, Miró collaborated with a variety of artists. His ceramic murals are famous – the ones in which he was influenced by and adapted to the Artigas family's legendary kilns in Gallifa. This ongoing evolution, this feeling of comfort in experimental, beta, lifelong learning settings where imperfection is a given, is fairly similar to the Wiki method and, by extension, that of Wikipedia.
Miró documented
One of the Fundació Joan Miró's treasures is its archive of the artist's thousands of preliminary sketches. Miró was methodical, and claimed that everything he did was based on reality. In Wikipedia, you always have to base your information on a source. The project's reliability depends on its bibliographic citations. As with Miró, the ladder of escape must be firmly rooted in the ground.
Miró educated
When Miró conceived his foundation, at a time when Barcelona was lacking in venues for contemporary art, he chose to reject the classical notion of a museum as a mere container for works of art. Jointly with Josep Lluís Sert, he conceived a contemporary art research centre that would feature his own works along with those of other artists, both upcoming and established, and that would provide a place to hold all sorts of cultural and experimental events. Miró did not want a closed, static museum; he wanted a space where things happened, where his works could be hung and stored away, a space for ongoing change where both canonical and utterly experimental knowledge could be shared by all.
Miró, the Wikipedian
Miró was not oblivious to his day and age. Lluís Permanyer said that Joan Miró 'is an honest, unassuming, generous man, true to himself, a citizen who is committed to freedom and to his country.' This urge to work methodically without closing the door to experimentation, this mixture of passionate commitment and contemplative formality that is quintessential to Miró, makes the artist a Wikipedian avant la lettre.
[1] Interview in La Gaceta Literaria, 1 July, 1928.