Rosa Maria Malet is leaving. In September, the Board of Trustees of the Fundació Joan Miró appointed Marko Daniel as the new director. The farewell party that the Fundació held last July for the woman who had been at the helm of the institution during the past 37 years was not a farewell to a position, but to a person: to Rosa Maria, to her character, to her way of being and of doing things. Many media outlets and numerous journalists have featured her in their spaces and interviews over the past few months. Isidre Estévez, a journalist friend and a person with close, long-standing ties to the Fundació, had a chance to hold a very personal interview with her.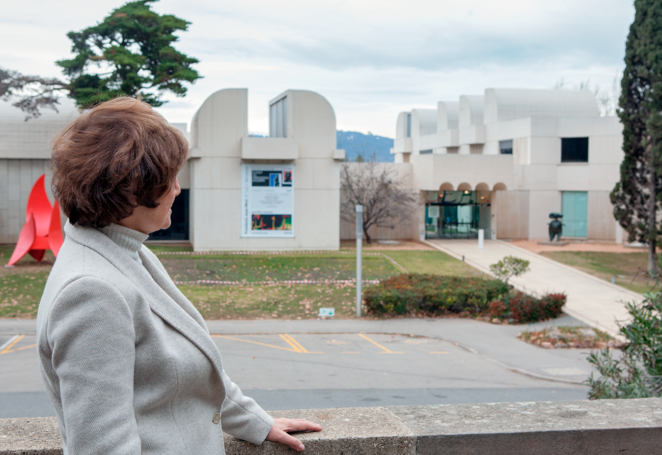 Rosa Maria Malet
© Fundació Joan Miró, Barcelona, 2017. Photo: Pere Pratdesaba
Malet is Leaving, but Rosa Maria Is Here to Stay. A Nuanced Farewell
After nearly four decades at the helm of the Fundació, Rosa Maria Malet is entering a new stage.
During these times of job insecurity marked by free-market liberalism, examples like that of Rosa Maria Malet are increasingly rare on the scene. When she walks out of her office for the last time in December, she will be leaving behind 37 years as director of the Fundació Joan Miró, almost four decades devoted to a job that one day happened to become her life. 'I was studying to be a nurse,' she says, with a smile, as though imagining how different her life would have been if she had not chosen to trade in a white-tiled laboratory for the white walls of a building that would end up becoming the setting of her entire career. She started out as an assistant curator right after the Fundació was established, with a future as hopeful as it was uncertain, and now will be leaving as the director of one of the most highly respected art institutions worldwide. In those 37 years, she has seen the Fundació, the city, art and society change. And what about her? Did she change the Fundació or did the Fundació change her? That would be hard, if not impossible, to determine.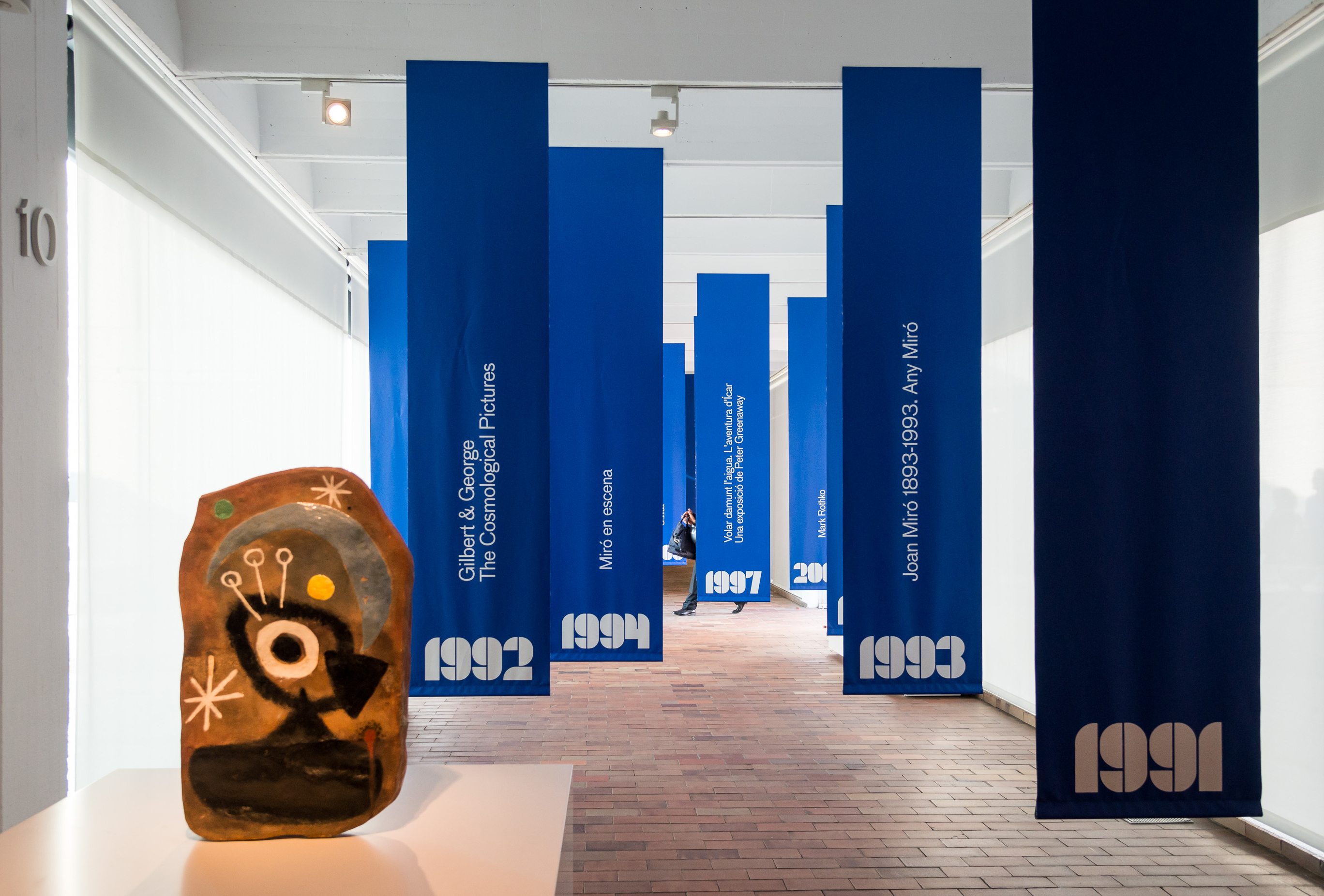 Fundació Joan Miró's annual end of season party. July 2017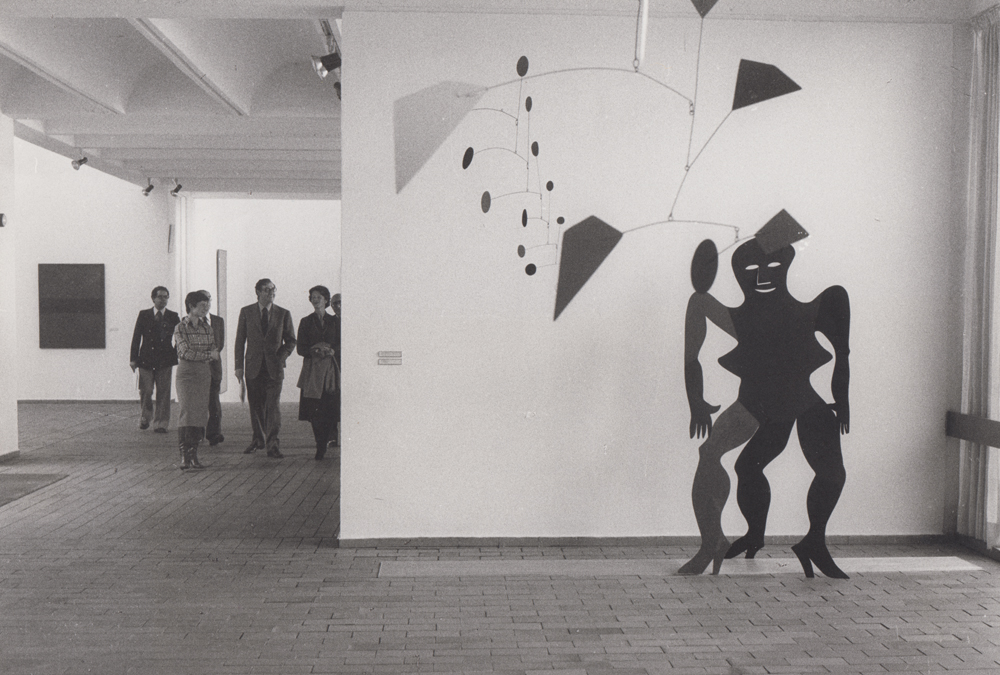 America, America exhibition. Fundació Joan Miró, Barcelona, 1977
She is aware of the changes that have taken place and of those that weren't able to happen, of the transformations that were achieved and those pending. 'I never thought I would end up being the director of a museum, but when I started doing so, I found it fascinating – because it really was a fascinating moment. Miró was still alive, everything was yet to be done… but it was a very hopeful time. It's different now. The public has changed, the institution has more resources…' she says, without it being entirely clear whether she believes it's good or bad. That is a constant in Rosa Maria Malet: she gives you the plain facts, as though observing reality without passing judgment. Only a faint smile suggests what she may be thinking. She chooses her words carefully, aware of her institutional role as the director of a museum, a delicate balance that can break at any moment. Maybe that's why she has eluded the controversies that so many of her colleagues in the field seem to be drawn to. She views the press as an instrument that must be used to promote the museum, not herself, and speaks without forgetting for a moment her commitment to not rub anyone the wrong way: the board members, the public, the institutions, the sponsors, the collectors… An impossible mission? Her 37 years at the museum appear to prove otherwise.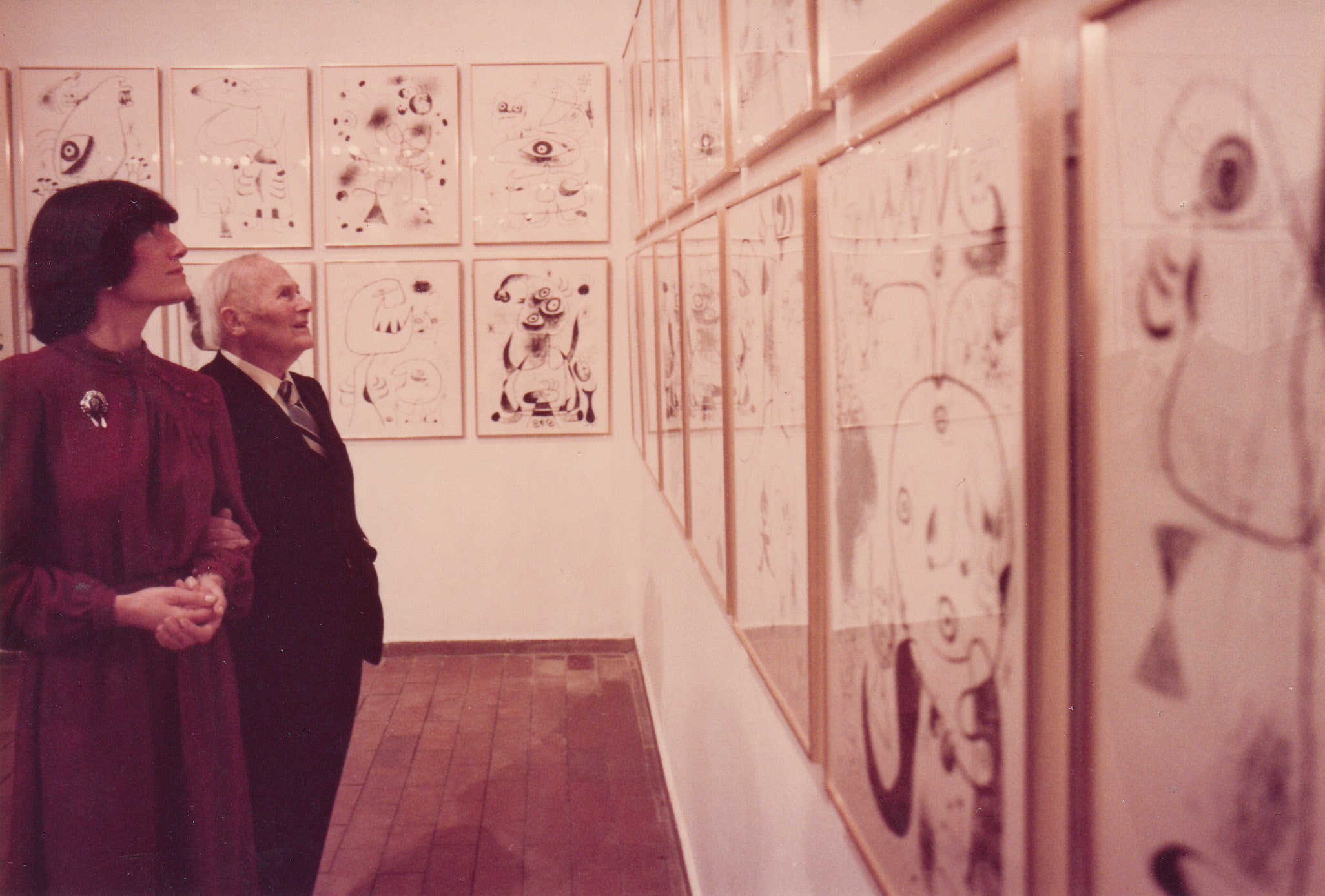 Joan Miró and Rosa Maria Malet contemplating the Barcelona Series at the collection rooms of the Fundació
One of the things that have changed during the past four decades is the perception of museums as centres of high culture, removed from the general public – a perception that is even more elitist in the case of contemporary art centres, viewed for many years as venues for a handful of snobs. Currently, everything is measured in terms of success, and success means holding major exhibitions with long lines at the door. Everyone has been forced to play in this league, to a greater or lesser degree, and the Fundació has done so – or has attempted to do so – despite the obvious difficulties. It has held major exhibitions and achieved important successes.  But that isn't really its game; it isn't its natural environment, it was never its original mission, it isn't the kind of dynamic that the Sert building generates. From the director's office, Rosa Maria Malet witnessed both the arrival of this trend and its slow decline, brought on by reduced funding and a sense of exhaustion among major museums and collectors. There is a return to normality, to constant, unassuming work that doesn't seek to dazzle, but simply to explain. And that happens to be the playing field on which Rosa Maria Malet is most at home: because of her personal character, of when she joined the Foundation, and of her personal experience, she has always believed in this way of doing things. Therefore, it is hardly surprising that she feels reaffirmed in an art world which has been forced to be a bit humbler. 'We always wanted people to enjoy themselves; We wanted visiting the Fundació to be an experience, to be interesting. But above all, our aim has been to provide a service – not to entertain, but to invite people to discover, to think. When we first opened, there were great expectations, a willingness to do things, and we organized activities where the Fundació was overcrowded with people; at the same time, we always considered it important for the exhibition rooms to be very quiet spaces,' she says, with a hint of sadness. Now they're full, but largely with tourists, 'and some people want to scare them away, so…' Her sadness turns into surprise and concern.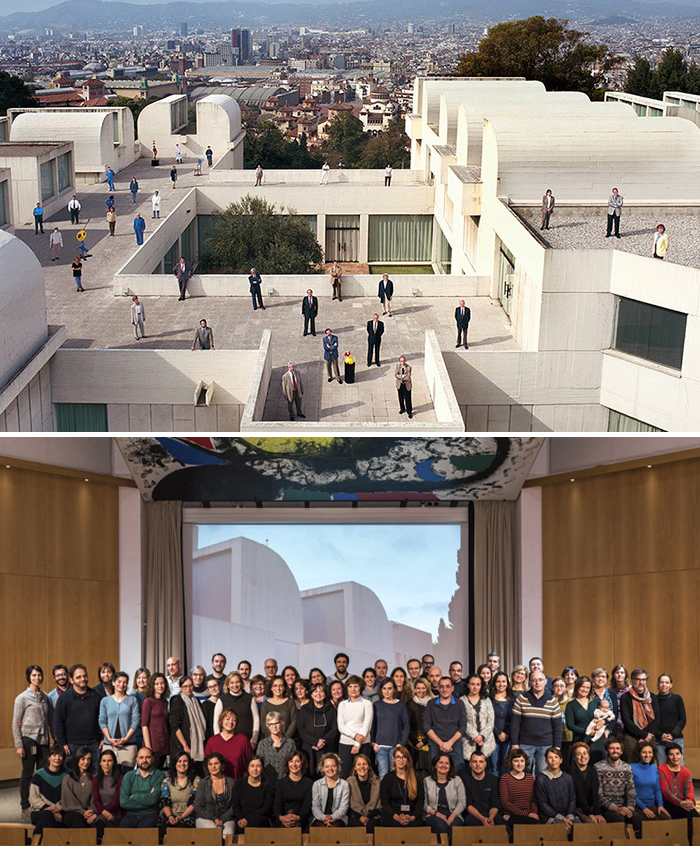 Above, the Fundació's team in 1995. Photo: Roger Velázquez. Magazine, La Vanguardia. Below, Rosa Maria Malet with the Fundació's team during her farewell in December 2017. Photo: Pep Herrero
Now her perspective has changed. She is packing her boxes for a goodbye which, much though she sought it, is no less melancholy. What she leaves behind is a consolidated Fundació – a bigger space, a larger collection, more visitors. 'I would have liked to organize a David Hockney exhibition, hold small thematic Miró exhibitions, reinforce the Espai 13…' That won't be possible. Someone else will be in her office, making the decisions. But she won't be leaving altogether: she will continue to be involved in the Fundació as a member of the Board – observing, advising, helping. On the Board, she will also miss someone who was her friend and ally for many years, Eduard Castellet, who passed away this past month of August – the man who, as she says, 'was convinced that we couldn't shy away from what lives on and gives meaning to the institution.' Her excitement and hopefulness about this task is undeniable: professionally, because it saves her experience from being lost; personally, because it prevents her from falling into the inevitable perplexity surrounding retirement. As a director she has remained silent more often than speaking out, working with an awareness of the importance of artists, curators, sponsors and politicians. Now, from her position on the Board, will she propose what she never proposed during all these years? Will she say what she was unable to say before? Will she do what she couldn't do? I ask her and she simply smiles, looking both surprised and a bit mischievous. And I don't rule that out. Malet, the director, is leaving. But Rosa Maria, the young woman who started out installing electrical outlets before an event and driving to the airport to pick up a lecturer in her Citroën 2CV, is still in action. We'll see what awaits.
Josep Miquel Garcia, Rosa Maria Malet, Eduard Castellet and Francesc Català-Roca, 1993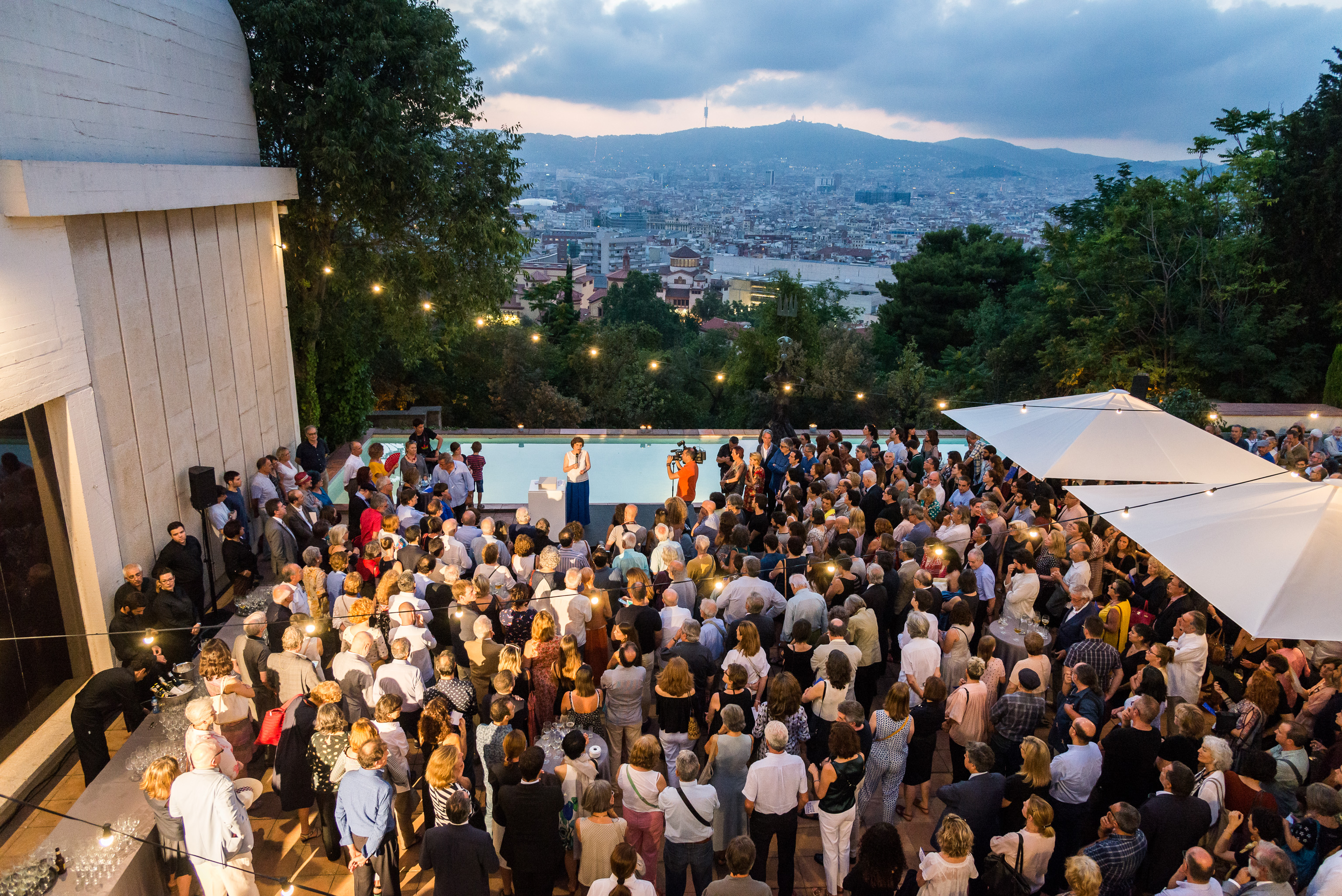 Farewell to Rosa Maria Malet at the Fundació Joan Miró's annual end of season party. July 2017
Translated by Deborah Bonner