If when arriving at the Barcelona airport you look with surprise at the great mural by Miró; if when walking through the Eixample district you come across the grandeur of Woman and Bird and you think that Miró, inspired by Gaudí, has conspired to make you look at the sky; if when going down the Rambla self-absorbed you step on a mosaic that distracts you from your thoughts; if when going up to Montjuïc you see the silhouette of the Foundation and you feel that something balances and fits inside you; if all this happens to you, then perhaps the seed of Miró's generosity is beginning to bear fruit.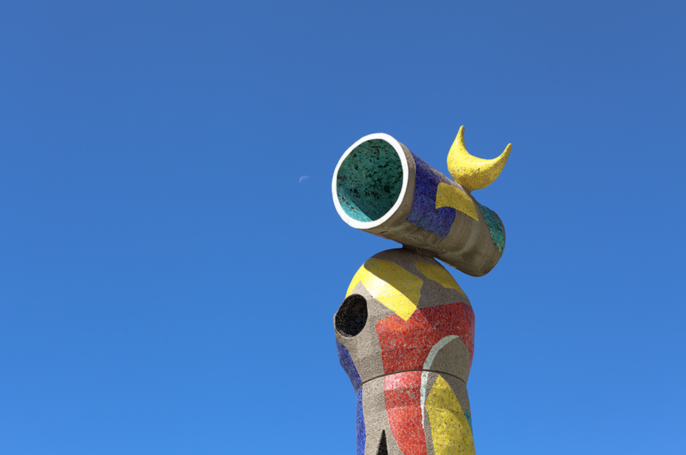 From Miró to Barcelona / From Barcelona to Miró
Below we reproduce an excerpt from the article «A, B, C, D …: the donation of Joan Miró to Barcelona», by Lluís Permanyer, published in De Miró a Barcelona, the first volume of Miró Documents collection (ed. Fundació Joan Miró, 2014).
[…] Joan Gaspar introduced me [to Joan Miró] with these words: 'A young journalist and a good Barcelonian'. Miró stared at me and replied while shaking my hand: 'Ah, the one with the private life confessions!' The next day I met him again at the Sala Gaspar and insisted he give me an interview. Again his answer was no: he said he didn't want to commit himself to giving me straight answers and preferred to feel free to contradict himself. He reiterated this in front of Joan Prats who exclaimed in agreement: 'You're doing the right thing'. I then asked Miró if he would dedicate a lithograph to me; one that I had just bought from the album. 'With pleasure' he replied.
This is how we met. In 1970, knowing that the mural for the airport in Barcelona was about to be inaugurated, I felt that the occasion deserved a long feature article in La Vanguardia, where I'd been working as a regular contributor since 1966. I telephoned Llorens Artigas and asked him to explain the creative process of that gigantic work. Miró found out about it and immediately sent word that he wanted to see me. It wasn't an awkward situation considering that, albeit briefly, we had met before. Besides, I imagine that Artigas and his son must have told him that I was trustworthy.

The Rambla mosaic at Pla de l'Os and the mural at Barcelona's airport.
Miró gave me a detailed account of how the mural had been conceived and developed, and I reproduced his words in my article in the form of a conversation. This explains why I felt the need to ask him to revise the text, especially since it was my first on Miró. It was a delicate matter and I didn't want to make mistakes, no matter how well-intentioned.
I sent him the text. He returned it two days later by urgent mail. It contained a few brief corrections and some tiny nuances had been added. I felt relieved.
But with the text came a surprise that left me astounded and deeply moved. Miró had added a page, handwritten in red ink, of sufficient importance to be considered front-page news. In it he announced his intended donation to the city of Barcelona. And in the characteristic order that regulated every aspect of his life, he classified every item: A, B, C and D.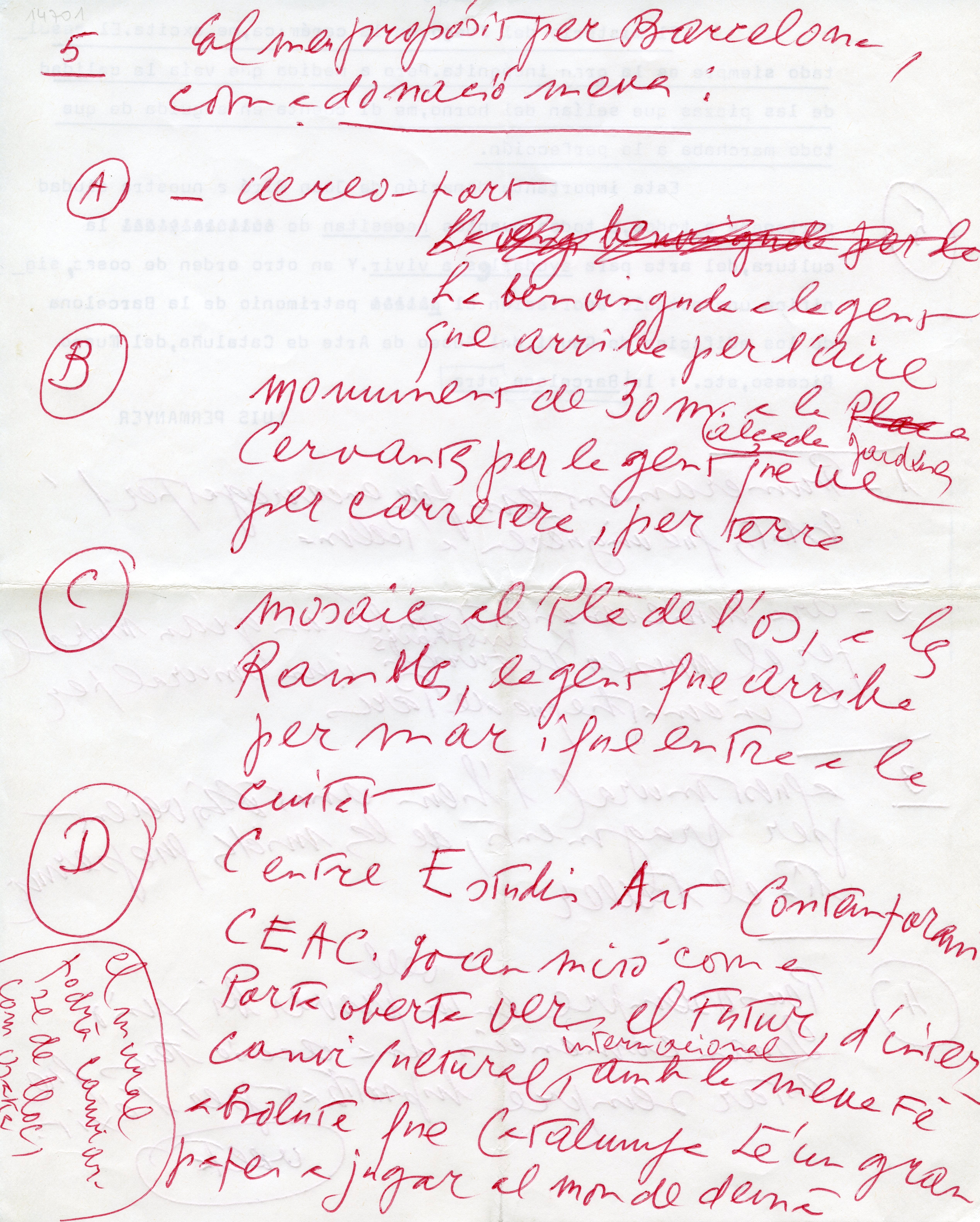 Handwritten in red ink page with Miró's donation.
Equally characteristic of Miró's way of doing things was his global and transcendental vision. The text was detailed account of how he intended the works to welcome people coming into Barcelona by different means of transport:
A – A mural at the airport for people arriving by air.
B – A thirty-metre-high sculpture at the Parc de Cervantes for people arriving by road.
C – A pavement on La Rambla for those arriving by sea.
Unfortunately the powerful gigantic sculpture was never installed in the park, despite the work already being in existence: it now presides over the main terrace of the Fundació with its magnificent views of the city.
The letter D announced the creation of the CEAC: Centre d'Estudis d'Art Contemporani. With moving simplicity Miró told me that he wanted the place to be alive: 'I want it to be like his notebook. I will only fill in the firs page and the others will do the rest.'
The day I presented my article, with proof of Miró's commitment, to Horacio Sáenz Guerrero, then editor of La Vanguardia, he immediately agreed that it was a scoop. Not only that, it fitted perfectly with the colour pages that the newspaper had incorporated over the previous weeks. The subject deserved to be generously illustrated. It appeared on 21 March 1971: it covered the front page, plus two more pages. On the front page, Miró's donation was reported in bold headlines, while a photograph of the entire handwritten text appeared on the inside pages.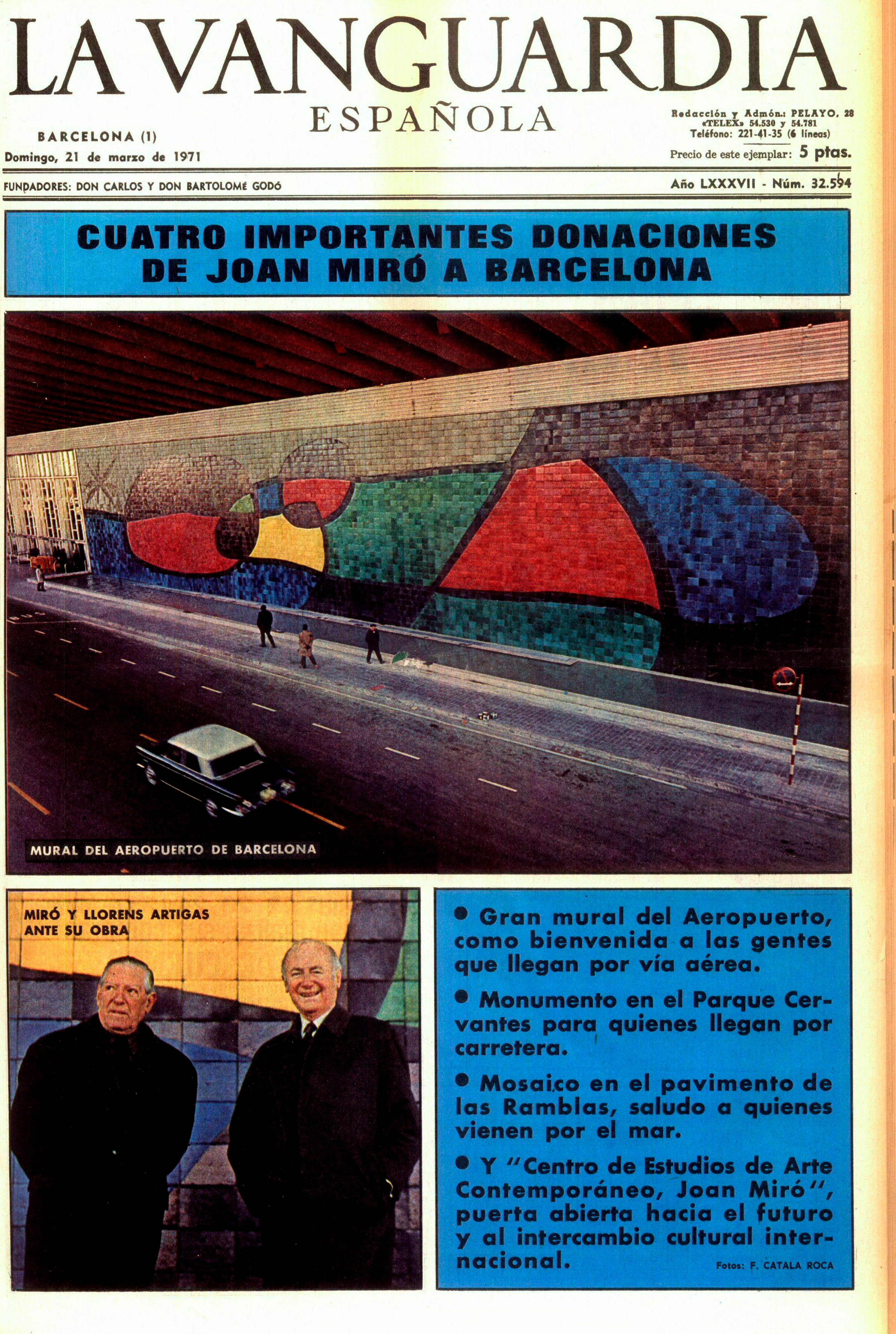 La Vanguardia' front page, 21 March 1971.
The reactions came swiftly. Manuel de Muga, from Ediciones Polígrafa, commented that my article, while positive and impeccably written, implied a public commitment from the artist that some people judged daring and even dangerous. He would not name those people. Perhaps they were not used to Miró doing anything without consulting Joan Prats first, the artist's dear friend and confidant who had died the year before. The news took them by surprise. It was an important decision, appearing unexpectedly, unannounced and with unusual implications. The fact that it had been reported in La Vanguardia –on a Sunday, in colour and on the front page– was unprecedented.
The way I see it, I think Miró did it intentionally. Being honoured in La Vanguardia meant rubbing it in as far as his father had been a subscriber to that newspaper, which was the epitome of Barcelona's ruling class. Miró's father never understood him as an artist and was convinced that he would be a failure. Success in Barcelona, his native city but also the one that had most rejected him, was for Miró the ultimate accolade. […]