The exhibition series featured in Espai 13 for the 2016-17 season, curated by Jordi Antas, is titled One Foot Out. Expeditions and Diasporas. Belonging and rupture are the two fundamental ideas underlying the series; participating artists, all of whom work on the periphery of the usual circuits, approach these ideas through different processes and questions. Isabel Galí, a journalist for the international news desk at the Catalan public television station, TV3, has lived and worked as a foreign correspondent in South America and the Middle East. We asked her to share her personal viewpoint on the meaning of belonging and rupture.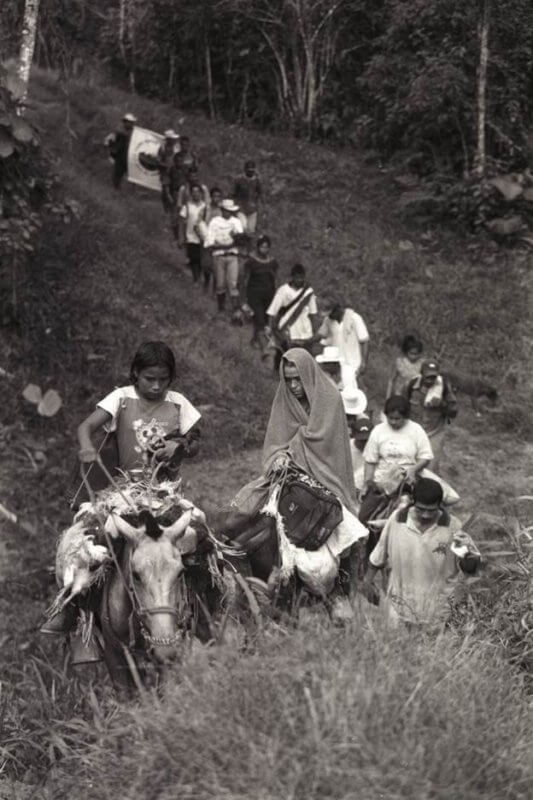 Displacement in the San José de Apartadó Peace Community, Antioquia, Colombia. February 2005
© Jesús Abad
From leaving as a learning experience to 'Muna's Journey'
Living abroad means having time stand still in one place while it speeds up somewhere else. It isn't the effect of jet lag or of different time zones. A capricious, subjective internal sense of time stirs up emotions and changes priorities. Who do we belong to? Where do we belong? Psychologists and sociologists who have considered the matter in depth would speak of it with more authority, but it would be terribly boring to take the intuitions that a new life can give us and sum them up in a scientific headline, wouldn't it?
I have found myself moving abroad three times, all told. I'm referring to the kind of move that makes you feel as though you were leaving a stretch of your life behind to open up a new one. And I don't remember any negative feelings. There may have been the occasional knot in the stomach, uncertainties and language barriers, but not much more. In retrospect, I suppose it makes sense, because I was leaving of my own accord with a backpack full of hopes on my shoulders. The only thing I was really concerned about was knowing how to come back – knowing how to readjust to the same old place, the same old life, the same people, realizing that I was no longer the same person myself. Over time I understood that if I had been forced to leave my home, my country, and leave my family behind without its having been my choice, my feelings would have been entirely different. Of anger and impotence at the very least; probably of immense sadness as well.
The news stories that have taught me the most profound lessons in life have been about the people we label as 'refugees and displaced persons.' Everybody's talking about them now, but I came upon the issue about thirteen years ago, in the Near East, in the second and most decisive of the three experiences of rupture I mentioned at the beginning. Understanding the lamentation of an eighty-year-old man in the Dheisheh refugee camp in Bethlehem as he showed us the keys to what had been his house in Dayr Aban, an Arab village in present-day Israel, just twenty kilometres away, is not something you achieve in a second or a minute. Truly understanding him and being capable of conveying a claim that at first glance may seem only symbolic or even absurd takes time, lots of time: it requires certain experience, an effort of empathy stripped bare of do-goodism and saccharin sentimentality. 'Because deep down, it's harder to have your object of desire nearby than at a great distance, many kilometres and borders away,' I thought at the time, trying to explain it to myself.
But in the end, the point that man wanted to make was that History had been unfair to him and that, despite his having managed to survive, it continued to be so. Because all that is left of his village, of his house, is a pile of ruins, stone walls that he may want to be able to rebuild some day, some day that will never come. In this respect, it was interesting to accompany the artist Domènec and Sagar Malé on the production of 48_Nakba. There, a simple gaze and a poster encapsulate this entire context.
I also lived in Colombia from 2010 to 2012, and there I came across some of the most harrowing stories I have ever witnessed. The violence inherent to displacement is nauseating, dreadful. Until the war in Syria emerged, for years Colombia held the sad record of being the country with most refugees and displaced persons in the world, over five million. People who were forced to leave their homes for the first time and had to leave again one or two years later, with their lives at risk or under death threats. People persecuted for being in a place that was coveted by a major multinational corporation, or by ruthless livestock farmers, or invited to leave with machetes and the practice of terror.
Esther Polo is one of these people. She is the daughter of María Zabala, a survivor, a resistant farmer and the founder of Valle Encantado. When we met Esther, we realized right away that she had grown up ahead of time. When her father, a humble peasant from the department of Córdoba, was killed, she was still in her mother's womb. Now she spends her time studying to be a lawyer, so that someday she can defend those who nobody has defended until now. Her struggle is low-profile, quiet, and highly focused, and will not stop with the peace agreements, whenever they come. Because with or without those agreements, Colombia will continue to be a country where to be born poor means to be sentenced to a lifetime of abuse and injustice.
I hadn't intended to talk about refugees and displaced persons, but that's what I've ended up doing. This 'phenomenon' – not to mention 'this harsh reality,' or this 'problem,' as some insist on calling it – surely a journalistic, political and intellectual 'subject of debate' – is bound to shape our personal thoughts at this time. And it will do so whether we like it or not, even though here we haven't experienced the massive arrival of people from abroad as has happened in Italy, Germany or France.
In the age of Twitter and instant thoughts, there is an idea floating in the air which keeps on coming up, refusing to disappear. It sounds so harsh and cruel that few dare to verbalize it. But it's out there. I first read it in an interview with Boaventura de Sousa: 'Refugees are not as human as we are. They have more obligations than rights. We [referring to Europeans] always make part of humanity inferior. There is no such thing as the concept of humanity without inhumanity.' And on he goes from there; the interview is devastating. I have also read this idea voiced by the promising young English Labour Party member Owen Jones in a series of articles that The Guardian published in Spain jointly with el Diario.es: 'Refugees are a group that has been systematically dehumanised: if we believed they were like us or like our children, we wouldn't tolerate their drowning in the Mediterranean by the thousands.'
I would like to close with a musical note that can help our children face these stories. It is probably one of the most beautiful songs about refugees I have ever heard. 'El viaje de Muna,' Muna's Journey, was written by The Pinker Tones and sung by Sílvia Pérez Cruz. Over time, our children, family and friends who survive the passage of time end up being the place we belong to. The ruptures, if any, dissolve into the past.