An exchange of letters brought the Fundació Joan Miró staff together with participants from Susoespai, an organization that builds bridges between art museums and persons with mental disorders through the practice of art. This experience has showed us how, even at a small scale, mutual awareness and familiarity can contribute to fostering a collaborative society and an outlook of respect. This article, written by Susoespai coordinator Fina Alert and the Fundació Joan Miró writing team, gathers the voices of participants from both organizations.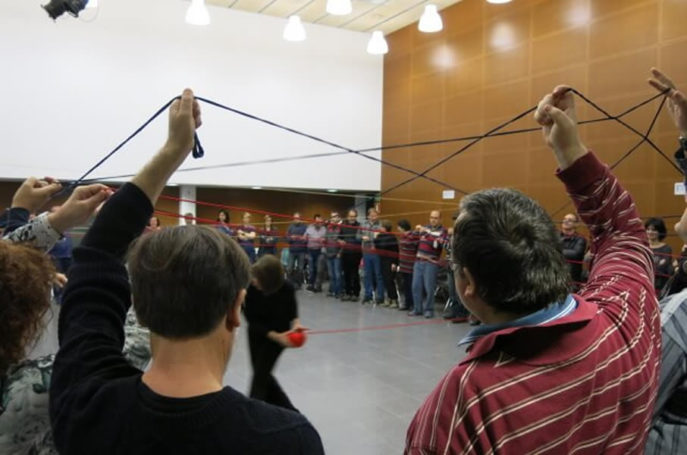 Cruïlles, Crossroads: A Correspondence
'Have you ever dreamed about Miró?' The first question that the participants from Susoespai asked us sounded easy enough to answer and not particularly awkward; however, it shook the invisible threads that had the potential to bind us together. Dreams as a form of escape, as a link between a real and a utopian world, between their reality and ours.' That is how Anna described her first impression of the Cruïlles (Crossroads) project.
The Cruïlles project, developed by Apropa Cultura, connected the Fundació Joan Miró with Susoespai, a creative arts centre aimed at people who live with a mental disorder. Cruïlles offered an opportunity to be involved in a joint participatory experience: an exchange of letters written between members of the Fundació staff and participants from Susoespai.
The Endgame: Duchamp, Chess and the Avant-Garde exhibition was used as the point of departure for the correspondence, after the Susoespai participants visited the show over a six-week period and focused on it in their visual arts workshop.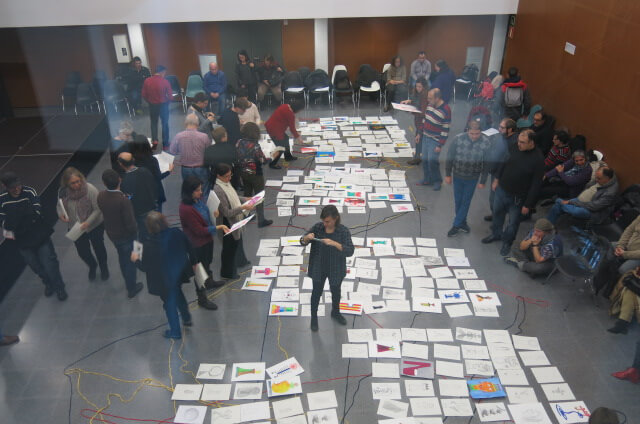 The project's initial goal was to create a joint space that would foster mutual understanding. Exchanging experiences is positive for people who live with a mental disorder. Coming together on equal footing encourages a respectful attitude towards one another. The Fundació staff members who were involved in the project also believe that experiences such as this one can help reinforce the notion of a collaborative city and shared civic responsibility.
Raúl P. voiced his point of view about the show that initiated the exchange: 'We went from the Susoespai workshop to visit Endgame: Duchamp, Chess and the Avant-Garde. At the exhibition, we discovered that in avant-garde movements, thought never stands still. The show opened us up to the idea that you can't judge a concept at first glance. Many different moves and thoughts are expressed in a game of chess and in art.'
Some of these thoughts came up in the letters exchanged between the Fundació staff and the Susospai participants. The waiting time between a question and its answer generated a growing desire to understand each other more and more, as Raúl M. mentioned: 'Our relationship through the letters increased our desire to know each other better.' Finally, we all gathered in a meeting that allowed us to get to know each other, exchange ideas and share our impressions of the exhibition, fulfilling the need we all have to give and to receive. At the gathering we materialized our relationships in an installation, building a large net of connecting threads that reflected the different bonds we had established.
Jordi believes that this experience could have been taken a step further. 'Modest though it was, I would have liked this project to have taken more advantage of the opportunity it offered. Participants could have got to know each other in more depth, with communication channels that led to stronger relationships. Even so, I do believe it was a positive experience –for one thing, because I'm convinced that incomplete satisfaction is not a drawback, but a stimulus.'
We would like the correspondence to last longer and be smoother the next time around. Despite its short duration, the Cruïlles project made a small-scale contribution to changing our approach towards mental health. Montse believes that 'it all starts with empathy and mutual understanding. Empathy leads us to emotion and to a first-hand experience of the museum and its environment.'
Ultimately, we share the desire expressed by Anna, who was asked whether she had ever dreamt about Miró: 'Opening up to a broad, diverse, sensitive public, opening the Fundació up to everybody, allows us to enrich each other. My answer was that I had never dreamt of Miró, but we ought to dream more often, so that the two worlds, the intangible world of desires and the "real" world, can pull the threads and draw them closer and closer until they touch.'