The Espai 13 programme for the 2016-17 season, One Foot Out. Expeditions and Diasporas, features six works produced on the periphery of the usual circuits of contemporary art. Halfway through the programme, essayist and writer Eloy Fernández Porta addresses the notion of periphery in seven pieces of short fiction.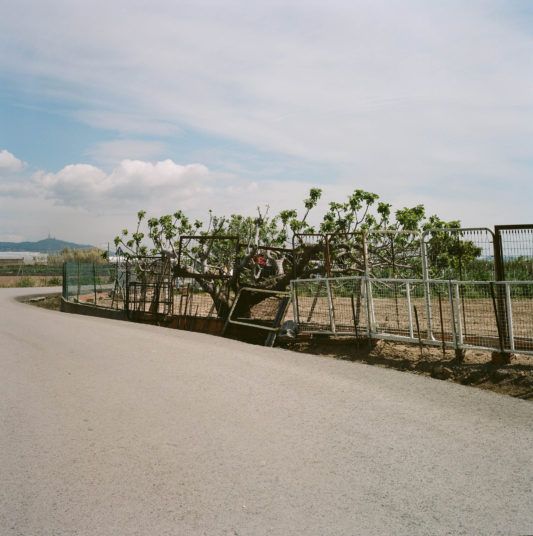 Landscapes of Pressure
© Kathrin Golda-Pongratz
Citizens of Neitherbarnormad
Several Peripheral Fictions and a Centralist Fable
The concentric circles in a café. Centralism is the result of a long sequence of everyday actions, often unconscious and mainly involuntary, performed by a large number of social agents. Some of them were born in the Centre. Others moved there assuming they would find certain things there that weren't available in their towns of origin, although maybe they were, but they just didn't know how to see them. Many are inhabitants of peripheralized spaces who often trust the cultural output of the capital more than what arises at the local level – and are more likely to trust a journalist from the capital whom they have never met than their neighbour who writes a column in the local paper and whom they see every morning ordering a small coffee with milk, no sugar, one table over at the café where they both have their breakfast.
Neitherbarnormadians are an odd bunch. From the perspective of the media from both cities, citizens who don't live in Barcelona or Madrid constitute a vague nationality, defined by a twofold lacking and a dual peripheralization. When a Neitherbarnormadian becomes successful without the journalists from the two capitals having given their seal of approval, they start to grumble, claim it's all a set-up, and make serious accusations. However, if someone builds an airport in a Neitherbarnormadian town, they find it terribly amusing. Oh, those Neithernarnormadians! Who ever heard of such a thing as boarding a plane anywhere else than in Barajas or El Prat? You know, those mayors… all that local corruption… the demagoguery of the local café gatherings…
On the Rambla de Preciados. On Spanish TV newscasts, Neithernarnormadians are allowed to watch Ordinary People and The Bosses. One of the Ordinary People is a lady who is shown speaking her mind in front of the FNAC store on Preciados, in Madrid, or on the Rambla de les Flors, with her back to the Boquería market, in Barcelona. The Bosses are guys in suits and ties who speak in front of a Tàpies painting, which could be The Four Chronicles or Jeu de paume. There is a piss-drenched alley that connects the Rambla with Preciados, but you'd better not walk down there: it's full of junkies from Valdemingómez and La Mina.[1] There's a piece by Tàpies that isn't in the Palau de la Generalitat nor in La Moncloa, but you needn't bother looking at it. It's a minor, more abstract work, portraying nothing relevant from the capitals. He must have done that one for money.
The Twin Capital Anthem. It was a double commission from Joan Manuel Cerral, who composed the Mediterranean chotis titled 'Las chulapas de la Rambla': Venen flors per a turistes, / sembren flors a tots els vents, / y alfombrarte con claveles la Gran Vía / y a bañarte con vinillo de Jerez.[2]
Neithernarnormadianism is an ism. It is. Sometimes the leading metropolitan media defend it without any metropolitan mogul profiting from it directly. They do so because they're worldists, because they detest hierarchies, and because the stubborn beauty of the periphery fires up their aesthetic sense (which is the ethic of the future).
The neighborhood and the globe. The Neithernarnormadians learn from the national news that some privileged cities have neighborhoods. When a butane gas bottle explodes in Soria, it happens in Soria. When a crime is committed in Lleida, it happens in Lleida. But when there's a report of a violent incident in Barcelona, the anchorman explains that it happened in 'La Verneda,' in 'Les Corts' or in another district. The capital of the central Iberian plains also has picturesque neighborhoods which are apparently the setting of choice for individuals endowed with passionate characters, suffering accidents, or who happen to be clumsy and have no patience for the boring atmosphere in La Latina or the nondescript routines of Nuevos Ministerios.
The peripheral metropolitan. The sonorous names of their respective neighborhoods is not the only thing that the residents of the Madrid district of Pacífico share with the residents of Bon Pastor in Barcelona. There is something else that both places know well, and which they could explain, with variations and coincidences: that you can be both metropolitan and peripheral at the same time, and you may even be so lucky as to get the stereo effect of having your fellow citizens call you 'peripheral' while the rest of the autonomous region—which, in both cases, is not exactly an autonomous region, but something more or less than that—brands you as 'centralistic.'
Metropolitan provincialism. American writer Mark Leyner noted ironically that The New York Times has a very cosmopolitan books section: its pages cover everything you need to know about all the authors who live within the six or seven main blocks in TriBeCa. Beyond the seventh house —Finis Terrae— we encounter uncharted territory: a presumptuous, overpopulated periphery known as 'The World.'
The Neitherbarnormad playlist came out of the research that the workgroup, comprising Mònica Sánchez, Ignasi López and Eloy Fernández Porta, has been doing as part of the Terra.Lab.Cat. group project.
[1] Translator's Note: two low-income neigborhoods on the outskirts of Madrid and Barcelona, respectively.
[2] Translator's Note: This nod to the name of Joan Manuel Serrat, a Catalan singer-songwriter who has sung in both Catalan and Spanish for several decades, is followed by the description of a chotis, a typical dance tune from Madrid. The first two lines of the lyrics, in Catalan, ('They sell flowers to the tourists / they cast flowers to the four winds') are from 'Les floristes de la Rambla,' a song written about Barcelona by Miquel Porter in 1962 and recorded by Serrat in 1966. The last two, in Spanish ('and carpet the Gran Vía with carnations for you / and bathe you in sherry wine') are from the chotis 'Madrid, Madrid, Madrid'; it is unclear whether this song, from the 1940s, was composed by Rafael Oropesa or by Agustín Lara.