A city oasis, great views, surprising architecture, exciting artworks… Most of Fundació Joan Miró visitors comments are showed emotionally. We would like to share all these feelings throughout this post to take stock of 2019.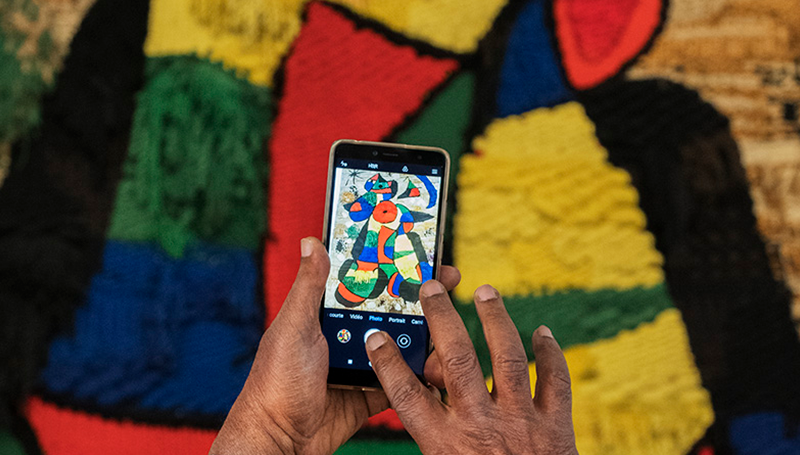 Photo: Oriol Clavera
© Fundació Joan Miró, Barcelona
As he was walking through the Joan Miró Collection galleries, Tom Maes was taken by surprise… In the next post, he tells us about an exciting experience he'll remember for a long time.
It was late afternoon of a sunny October day in Barcelona and we were halfway through our visit of the @fundaciomiro. I was strolling, enjoying the museum atmosphere when I got into an #unexpectedConversation with a museum guard.

— Tom Maes (@tljmaes) January 2, 2020
A peaceful and quiet oasis:
Impressed by Josep Lluís Sert's architecture, a Colombian visitor said she really liked the light, the easy access and the airy galleries, which made for a very pleasant and engaging visit and helped her appreciate the artworks on display.


Joan Miró's creative artworks and the layout of the Joan Miró Collection galleries are great for families: explore the Foundation with kids and discover all the benefits of the Family Card. 
Ens ha encantat. Per primera vegada amb la nostra filla. Animant-la a que s'interessi per l'art. Fàcil fer els tràmits per treure carnet permanent. Moltes gràcies pic.twitter.com/4Dc8kn8wnx

— Ana Mochales (@MochalesAna) October 7, 2019
Finally, Fundació Joan Miró is perceived as a museum adapted to the need of a huge range of visitors. Claire Augey highlights exhibit labels in French.

So what are your thoughts on it? Take a look at the visitors comments in this site and share your opinion using #MiróMyExperience hashtag.