For the last four years, Serafín Álvarez has been working with pupils following a baccalaureate course focusing on the arts to give them insights into contemporary art by introducing them to professional working processes and by encouraging critical thinking about artistic creation. This academic year, the pandemic has disrupted everything.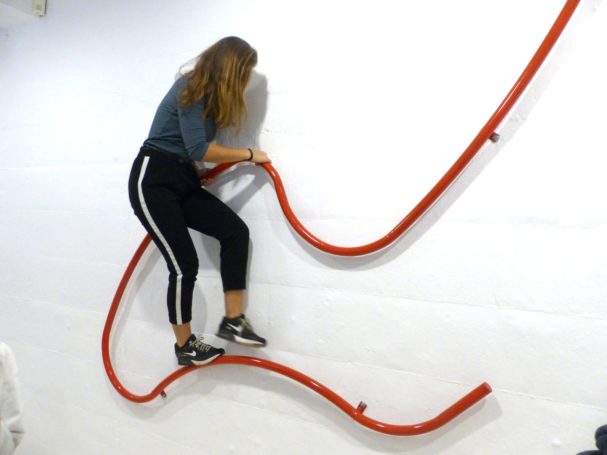 Gravitations is an art education project I launched in 2016 in collaboration with the Fundació Joan Miró. In broad brush terms, every academic year, we and a group of secondary school pupils consider some of the approaches adopted by contemporary artists. We follow the programme of the Espai 13, visiting exhibitions and meeting artists, curators and others involved in the field, and we produce our own work, informed by the things we have seen, heard, thought, said and discussed. At the end of the year, we organise an exhibition at the foundation itself, featuring a selection of these works, and we look back to assess with hindsight everything we have experienced, from the first exhibition we visited, which shook our concepts of art, to the last, our own exhibition, which for many participants will be the first time they have shown their creations in public. A final exhibition that we get to after considerable hard work and an intense emotional curve of nerves, excitement, stress, doubts, tiredness and satisfaction.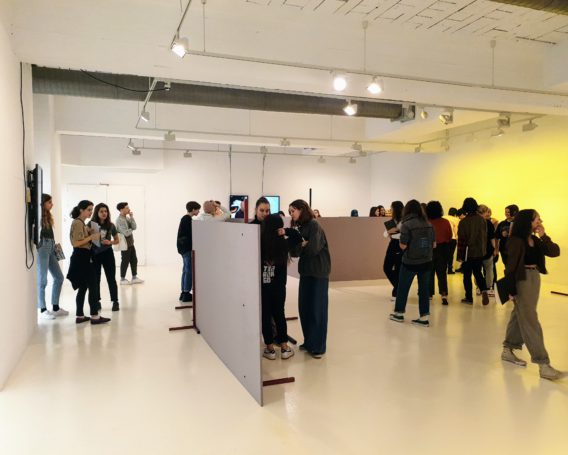 At a personal level, one of the most interesting aspects about Gravitations for me is that it enables us to experience first hand myriad processes that outsiders normally never see, that vast submerged mass of the iceberg without which the peak above the water would sink. Direct contact with professionals and conceiving, realising and showing our own works gives us access to a huge bank of knowledge that most visitors to an exhibition are usually unaware of: ideas that are discarded yet essential to the maturing of a project; influences, attempts and prototypes; moments of excitement and moments of crisis; obstacles and solutions; the numerous tasks that go beyond the production of the works on display; and the many people who, with any luck, are mentioned, if only briefly, in the credits. I am talking about jobs and people involved in areas such as exhibition installation and lighting, the writing of a leaflet, the design of a poster, public relations, documentation and a long list of others. A complex collection of very diverse aspects which, once we have experienced them for ourselves, will give us a broader idea of what it means to work in art, will provide us with a foundation on which we can build to continue training in this field if we so wish, and will give us the tools to appreciate any cultural activity with a better understanding.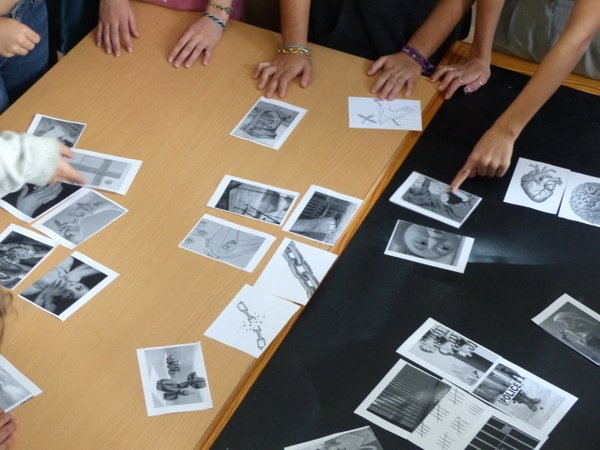 This 2019-2020 academic year, the Gravitations project, like everything else, has been severely affected by the state of emergency declared in a bid to halt the pandemic. With almost no time to react, we found ourselves suddenly forced to continue the project from home using distance learning techniques. I would like to make special mention here of Paco Rico and Fanny Figueras, teachers at the Institut Moisès Broggi, the school that has participated in this year's project, as well as the pupils, as they are the ones that have worked hard to ensure that the project has been able to carry on despite all adversities by investing huge amounts of energy, dedication and perseverance in it.
At the start of the year, inspired by some of the general concepts that underpin the Turn it all turns exhibition series in the Espai 13, which addressed the idea of making minor changes to the way reality is perceived that will enable or cause us to view it differently, the participants in Gravitations worked enthusiastically on issues such as the age-related codes that are taken for granted by society (4dv1c3); doubles, shadows and reflections (Sense títol and Superficialitat); teenage years as a rite of passage (Twirl and the two works entitled Canvis); formal experimentation in relation to motifs that allude to the action of rotation present in the project title and the disorientation that derives from it (LaBucle and Cicles); and alterations to the sensory perception of the physical space, with the body as the protagonist (Trencadís and Praileaitz).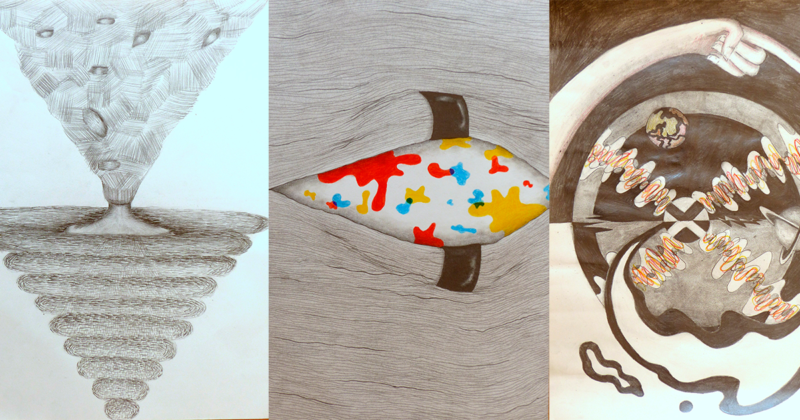 Then came the state of emergency. Perplexity, altered perception and a skewed experience of reality were no longer concepts to be meditated on but real experiences that had to be coped with. Teenagers are a population segment particularly vulnerable to the effects of lockdown. Social distancing is totally contrary to the very idea of adolescence, to the urge and need to assert oneself as an individual outside the family nest, to spend time with one's friends, to run risks, to experiment and connect with one's body and emotions. The world of many teenagers is governed by sociability, and this world came to an abrupt halt. In the face of this major event, they have been forced to adapt personal and emotional relationships, hopes and desires as best they can, to put them on hold until such time as they can pick them up again or simply to give up on them, resulting in an increased risk of disorders such as depression and anxiety. In the first block of the project, we realised that adolescence as a rite of passage was a subject that worried many of the participants, and the lockdown has thrown this process into chaos.
Many of the works produced during this period directly address these issues. "The work as a whole represents the sense of pressure you might feel when you suffer from anxiety or a panic attack. All the more intensely because of this lockdown, from which there is no way out, no outlet or distraction from these feelings", writes Paula Parrilla about her work Deal With. Almost all the works and descriptions given by her classmates express similar concerns. By far the majority of them deal with the lockdown and isolation and only a few are able to look outwards.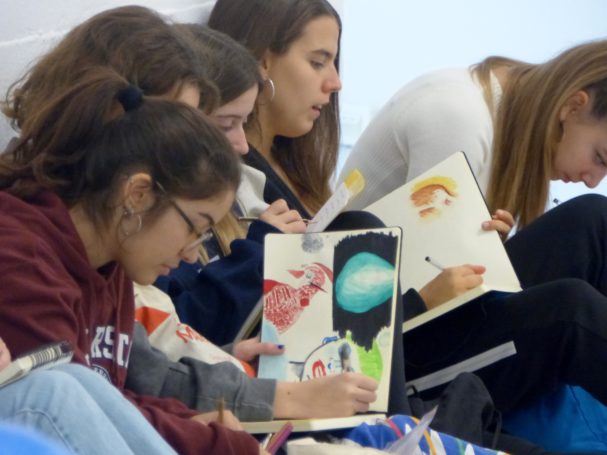 During this academic year, we have gone from imagining the dizziness suggested by the title of the project to the dreamlike experience of life in lockdown. The disruption was far more intriguing when we addressed it in the abstract in a controlled way in the classroom with our peers than it is now, a situation imposed on us in our homes, where we are confined with our families. But it has been an interesting process, albeit hard and extreme, even catastrophic in some cases. It has forced us to look at things anew, to rethink reality from a private viewpoint, to get to know ourselves and our closest relatives better, to put the interest of the group above our own, and to place a new value on things we have lacked that we formerly took for granted. It might sound cynical, but the lockdown has helped us to grow up because strength comes from coping with adversity. It has forced us to experience in our bodies and mind those "alterations to familiar, recognisable objects and ideas" proposed in the curatorial discourse of Turn it all turns. The academic year and the lockdown are now over, but we still suffer the consequences of the dizziness, the ground beneath us remains unstable, we still feel incapable of stepping firmly out onto it. Presenting a selection of the works we have produced on this blog does not entirely satisfy the thrill we felt at the idea of mounting an exhibition at the Fundació Joan Miró, something that is impossible under the circumstances. But it does enable us to leave a record of the feelings we have felt and expressed in these works. It also allows us to look back and to take stock of an intense emotional curve.