Creative consciousness (I). Ravi Ram, Kirtan yoga
On-site activity

Woman and Birds at Sunrise (1946) evokes an awakening from different angles: the awakening of the day, the awakening of creativity, the awakening of the body. Joan Miró was a constantly evolving artist who felt great contempt for permanence. In his work, themes and cycles come one after the other. A dot on the canvas, a stain on the paper, a finished work that was potentially the starting point for the next one. This creative impulse was often determined by the juxtaposition of opposites: night and day, heaven and earth, the masculine and the feminine, and so on.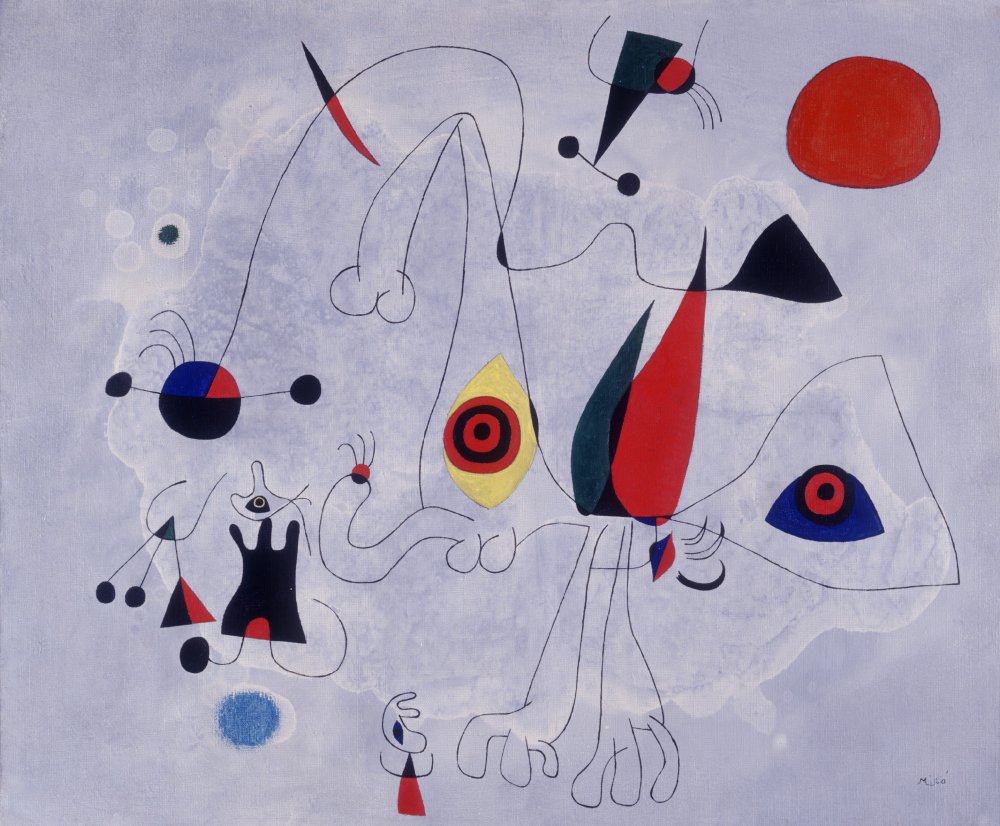 In the painting Woman and Birds at Sunrise, this duality is clear to see. The central figure has masculine attributes, but also female genitalia; the inverted triangle and the ascending triangle that frame the composition at the top and bottom also exemplify this tension, as does the intense red circle. Indeed the red is almost transformed into matter, unlike the translucent blue circle. It is a contrast not only of colours, but also of matter, of forms and of attributes. The conflict is inner and it generates creative energy; an energy represented here by the intense red flame. The union of opposites is a symbol of fullness.
This first yoga session will also be an awakening of the senses. The session will have two parts: first, a contemplation of the selected work and, second, Kirtan with the artist Ravi Ram.
Kirtan yoga is a branch of yoga that focuses on chanting mantras and breathing. It is a practice that moves energy to every cell in the body and opens the spirit, thereby provoking a great awakening of consciousness.
Ravi Ram is an internationally renowned artist, multi-instrumentalist musician and national referent in the speciality of Kirtan and devotional, healing chants (#WorldKirtanSound).
Become a Friend of the Fundació Joan Miró and get your discount for the yoga sessions! You'll also have the chance of participating in the draw of a very special yoga mat.
Follow this activity on social media
Duration
1 hour 30 minutes
Place
Olive tree patio
Dates
24 February 2023, from 6 to 7.30 pm
Price
12 € per session, 10 € Friends of the Fundació Joan Miró
Capacity: 40 people
Supporting material
Participants are advised to wear comfortable clothing and to bring a warm outdoor garment.
Reservations