Miró and the Object
Images
To access images of the collection and temporary exhibitions, subject to rights, you must sign in as a professional.
Temporary exhibition
Miró and the Object
Dates
29/10/2015 - 17/01/2016
Curated by
William Jeffett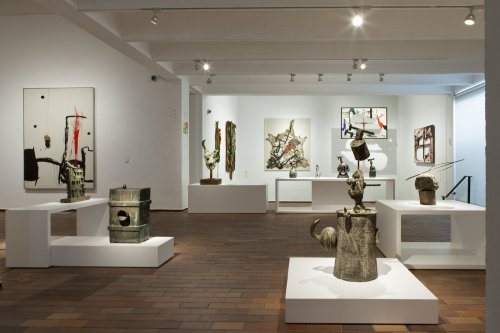 The Fundació Joan Miró presents Miró and the Object, the first exhibition to specifically explore the presence of the object in the work of Joan Miró.
Sponsored by the Fundació BBVA and curated by William Jeffett, the exhibition looks at how Miró began with pictorial representation of objects, moved onto physically incorporating them in his works through collage and assemblage, and ended up exploring new techniques such as ceramics and sculpture.
Miró and the Object presents over a hundred works including paintings, ceramics, and sculptures from the Fundació Joan Miró collection and important public and private collections in Europe and America, as well as a selection of original objects that the artist collected throughout his life.
The overall selection, with a strong visual impact and thorough scientific rigour, includes works that have never been exhibited in Spain, such as Portrait d'une danseuse [Portrait of a dancer, 1928] from the Centre Georges Pompidou in Paris, and Les joujoux [The toys, 1924], from the Moderna Museet in Stockholm.
Other highlights include Still life I (The stalk of wheat) and Still life II (The carbide lamp), two paintings from 1922-1823 belonging to the MoMA collection in New York, which have not been exhibited at the Fundació since 1993.
Miró and the Object also presents four assemblages of objects from the series Miró produced in 1931, which are shown together for the first time, and two 1929 collages, one of which will join the Fundació's collection as a permanent loan to mark its 40th anniversary.
Miró and the Object will be open to the public until 17 January 2016 at the Fundació Joan Miró, and will travel to CaixaForum Madrid in spring 2016.