One foot out. Expeditions and diasporas
Images
To access images of the collection and temporary exhibitions, subject to rights, you must sign in as a professional.
Exhibition series
One foot out. Expeditions and diasporas
Dates
23/09/2016 - 11/09/2017
Curated by
Jordi Antas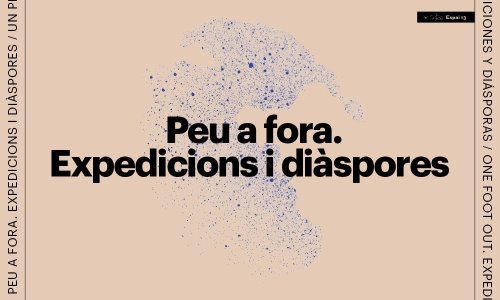 One Foot Out. Expeditions and Diasporas, Espai 13 exhibition programme 2016-17 at Fundació Joan Miró
Jordi Antas, curator, Rosa Maria Malet, Director of the Fundació Joan Miró, and Martina Millà, programme and projects department of the Fundació, presented One Foot Out. Expeditions and Diasporas, the exhibition programme for Espai 13, Fundació Joan Miró, for the 2016-2017 season. Curated by Jordi Antas (Lleida, 1976), the project invites reflection on the idea of continuity, of belonging to and breaking away from the established model in the Barcelona art scene. The solo shows revolve around the work of Ana Garcia-Pineda, Nicolás Lamas, Momu & No Es, Eva Fàbregas, Adrià Julià and Martín Llavaneras, six mutually independent artists who share an interest in exploring speculative situations from a liberated position and from the perspective of their current surroundings. Their projects range from performativity to public involvement and from fiction to unexpected situations, capturing moments that are in the process of becoming history, uncertain futures, aspects related to failure and success, and symbolic thoughts that define this voluntary distancing. One Foot Out. Expeditions and Diasporas explores the relations and contents, uncertainties and thoughts of those who work in a situation of displacement and whose gaze has been modified by distance.