Endgame: Duchamp, Chess and the Avant-Gardes
Images
To access images of the collection and temporary exhibitions, subject to rights, you must sign in as a professional.
Temporary exhibition
Endgame: Duchamp, Chess and the Avant-Gardes
Dates
29/10/2016 - 22/01/2017
Curated by
Manuel Segade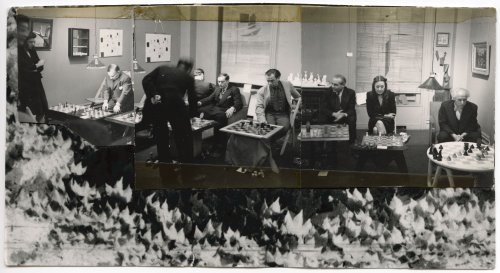 The Fundació Joan Miró presents Endgame: Duchamp, Chess and the Avant-Garde, an exhibition that re-reads the history of modern art through the lens of its relationship to chess.
The exhibition, sponsored by the BBVA Foundation and curated by Manuel Segade, looks at chess as a leitmotif that runs through the avant-garde, and metaphorically offers an innovative and playful insight into the history of modern art. Endgame: Duchamp, Chess and the Avant-Garde brings together around eighty works, including paintings and sculptures - some of which have never been shown before in Spain - by some of the key artists of the twentieth century, drawn from major public and private collections in Europe, America, and Middle East.
Highlights include Duchamp's The Chess Game, on loan from the Philadelphia Museum of Art, and Paul Klee's oil on canvas Überschach from the Kunsthaus Zürich, as well as works from the Centre Pompidou and The Israel Museum and unique pieces by Kandinsky, Sonia Delaunay and Mercè Rodoreda. The selection covers a long period spanning from 1910 to 1972 and also includes four of Duchamp's readymades and a dozen historical chess sets, some of which were designed by leading avant-garde artists and conceptual art pioneers such as Alexander Calder, Max Ernst, Isamu Noguchi, and Yoko Ono.
Endgame: Duchamp, Chess and the Avant-Garde is complemented by a wide range of original documents including books, posters, photographs, films, and audio recordings from public and private archives around the world.