purehardillusion, by Luis Bisbe
Images
To access images of the collection and temporary exhibitions, subject to rights, you must sign in as a professional.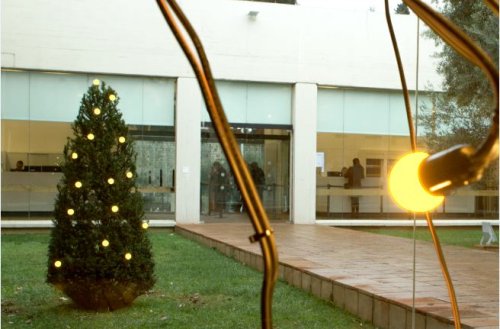 The Fundació Joan Miró presents the Nadala for 2016, an installation by Luis Bisbe which focuses on the mechanisms by means of which the Christmas festivities are constructed and transmitted as an illusion.
Starting from the role of the illuminated tree in winter traditions, Bisbe has set up an installation entitled purehardillusion, which can be viewed from 1 December 2016 to 8 January 2017 at the Fundació Joan Miró.
In purehardillusion, a deconstructed Christmas tree shows, simultaneously but independently, the two stages of the artefact - the fir tree and the lights - as two superimposed moments of a deception. With this work, Luis Bisbe (Málaga, 1965) uses defamiliarisation and surprise to highlight the illusionistic dimension that shapes the meaning of Christmas as a time of beliefs and appearances.
Nadala at the Fundació Joan Miró is an initiative that links local artists with the end-of-year festivities. Since 2007, the Foundation has exhibited the creations of Perejaume, Ignasi Aballí, Tere Recarens, Antoni Llena, Fernando Prats, Jaume Pitarch, Eulàlia Valldosera, Fina Miralles and Rafel G. Bianchi and Regina Giménez.