Éluard, Cramer, Miró – "À toute épreuve", more than a book
Images
To access images of the collection and temporary exhibitions, subject to rights, you must sign in as a professional.
Temporary exhibition
Éluard, Cramer, Miró - "À toute épreuve", more than a book
Dates
30/03/2017 - 02/07/2017
Curator
Christopher Green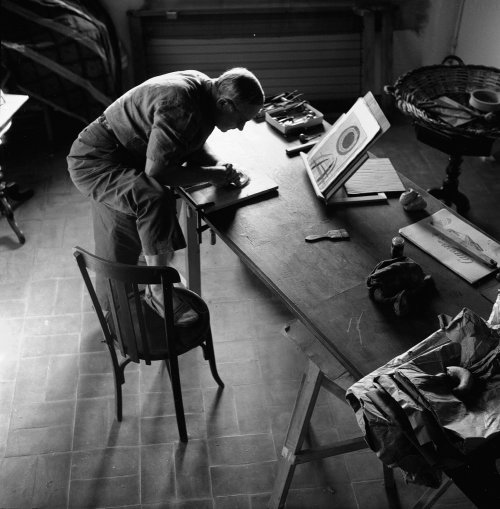 The Fundació Joan Miró presents Éluard, Cramer, Miró ­- "À toute épreuve", more than a book, an exhibition that reconstructs the history of this collector's edition, considered to be one of the most beautiful and surprising artist's books of the 20th century, and crucial to an understanding of Miró's career.
Christopher Green, curator of the exhibition, has received collaborative support from the Conservation Department of the Fundació Joan Miró for this project, which aims to put the spotlight on how the artist managed to accomplish something he had aspired to for years: the creation of a book-object that went beyond simply illustrating the words of the poet to become something close to a sculpture.
Thanks to works and documents drawn mainly from the Foundation Archive, complemented by others from the Archive Gérald Cramer in the Musée d'Art et d'Histoire de Genève and the Bibliothèque de Genève and pieces from various private collections, this exhibition gives visitors their very first opportunity to view À toute épreuve in its entirety beside five of the six maquettes that have been preserved. The exhibition also includes more than thirty wood blocks, carved by Miró, which were used to print the 80 woodcuts for the book.
The project is rounded off by a wealth of documents which serve to recreate the process by which this book was conceived and produced, the fruit of a remarkable collaboration between the poet Paul Éluard, the artist Joan Miró and the publisher Gérald Cramer over the course of a decade (1948-1958).
This new small show is part of the Miró Documents series, which began in 2014 with From Miró to Barcelona. With this cycle of exhibitions, publications and symposiums the Joan Miró International Research Group, supported by Cercle Miró, draws on the Fundació Joan Miró Archive to explore new approaches to the artist's work.