The Way Things Do
Images
To access images of the collection and temporary exhibitions, subject to rights, you must sign in as a professional.
Temporary exhibition
The Way Things Do
Dates
30/6 - 01/10/2017
Curated by
Serafín Álvarez and Martina Millà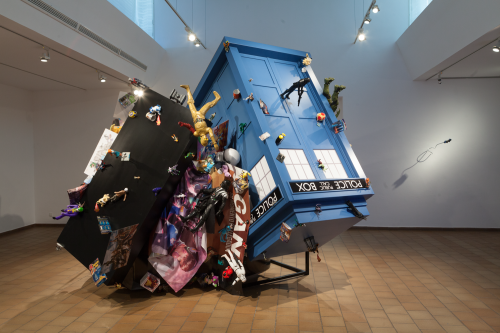 The Fundació Joan Miró presents The Way Things Do
The exhibition revisits the film by Fischli and Weiss titled The Way Things Go on the occasion of its thirtieth anniversary and places it in the hands of three artists born around the time it was produced, proposing an exercise around the notions of reception and perspective.
Curated by Serafín Álvarez and Martina Millà, The Way Things Do includes a screening of the original film and three new productions by four artists who provide their reinterpretations focusing on the role of the object: Cécile B. Evans, Daniel Jacoby & Yu Araki (who work in collaboration), and Serafín Álvarez.
The project suggests both a reflection on the relationships that artists born in the 1980s have with the landmarks of previous generations and about how they reconstruct them in their own productions. The exhibition, which has been organized with support from Hangar, BAR Project, Arts Council Tokyo, Jan van Eyck Academie and Pro Helvetia, will be open to the public at the Fundació Joan Miró until 1 October 2017.