Gerard Ortín. Reserve
Exhibition
Reserve
Artist
Gerard Ortín
Dates
22.9 – 5.11.2017
Curator
Alexandra Laudo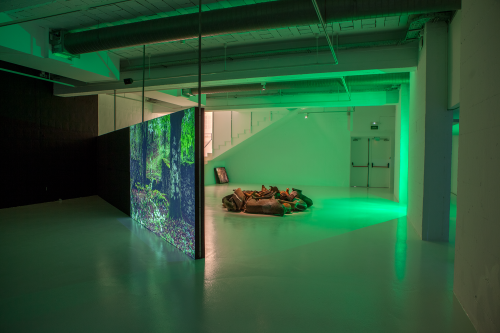 Gerard Ortín opens the exhibition program for the 2017-2018 season at Fundació Joan Miró's Espai 13
With Reserve, the artist approaches the notion of boundaries with a sensory installation evocative of how animals perceive space.
Different case studies related to the decline in the wolf population in the forests of Álava form the basis of Ortín's proposal, an installation constructed from architectural, sculptural, audio, olfactory and visual elements in dialogue with each other.
The Possibility of an Island is the exhibition program for the 2017-2018 season at Fundació Joan Miró's Espai 13 in collaboration with Banco Sabadell Foundation. Curated by Alexandra Laudo [Heroínas de la Cultura], the project explores some of the symbolic and sociocultural meanings that have historically been associated with a paradigmatic space in the collective imaginary: the island.