Beehave. Interventions throughout Barcelona
Images
To access images of the collection and temporary exhibitions, subject to rights, you must sign in as a professional.
Temporary exhibition
Beehave
Dates
15/03/2018 - 17/06/2018
Curated by
Martina Millà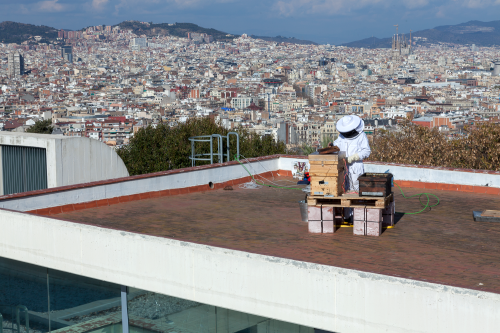 Beehave ventures beyond the Fundació Joan Miró building with ten art interventions held at different locations in Barcelona, with the aim of sparking a citizen debate about the coexistence of humans and bees in cities.
It is the second part of the Beehave project, curated by Martina Millà, the Programming and Projects Director at the Fundació Joan Miró, which began at the museum with an exhibition that connects visitors with the world of these insect pollinators. As spring begins, ten artists, both local and international, will be presenting their interventions, installations, videos, community projects and performances in fifteen different locations throughout the city, including the Laribal gardens in Montuïc, the Plaça de les Glòries, the convent of Sant Agustí, the Poblenou cemetery and the TRAMBesòs streetcars. From March to June 2018, the artists Joan Benàssar, Luis Bisbe, Alfonso Borragán, Joana Cera, Gemma Draper, Vadim de Grainville & Marcos Lutyens, Anna Moreno, Ulla Taipale, Andrés Vial and Pep Vidal will pollinate the city with a group of works created specifically for the event to encourage a blooming citizen debate about the practice of urban beekeeping as a way to re-naturalise urban environments.
Beehave, developed in collaboration with the Banc Sabadell Foundation and with support from Torrons i Mel Alemany and TRAM, will be unfolding beyond the museum thanks to the Institut de Cultura de Barcelona (ICUB).