Our Own Path Remains
Exhibition
Our Own Path Remains
Artist
Fito Conesa
Dates
21.9 - 4.11.2018
Curator
Pilar Cruz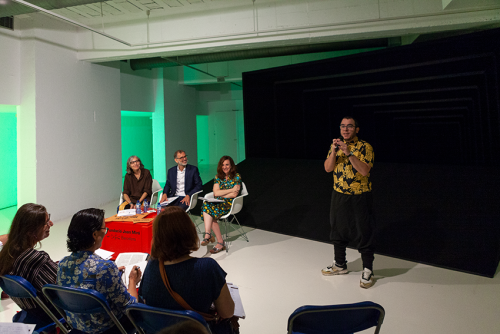 Fito Conesa will be opening the Espai 13 exhibition series for the 2018-19 season at the Fundació Joan Miró.
Using composer Arvo Pärt as his point of departure, the artist considers the notion of crisis as an opportunity for reinvention and as a path for generating knowledge.
In Our Own Path Remains, Conesa presents a composition of his own influenced by Pärt and builds an architectural structure for appreciating the piece, turning Espai 13 into a chapel for transcendent listening.
Played by the Portuguese musician Miguel Leiria, the piece at Espai 13 is accompanied by a choral track produced with the Cor Jove de l'Orfeó Català, directed by Esteve Nabona, in a joint effort to give a voice to Conesa's composition.
A Monster Who Tells the Truth is the Espai 13 exhibition series held at the Fundació Joan Miró during the 2018-19 season, produced with support from the Fundació Banc Sabadell. Curated by Pilar Cruz, the project questions the nature of disciplines and inquires into the relationships between knowledge and power.