Lee Miller and Surrealism in Britain
Temporary exhibition
Lee Miller and Surrealism in Britain
Dates
31/10/2018 - 20/01/2019
Curated by
Eleanor Clayton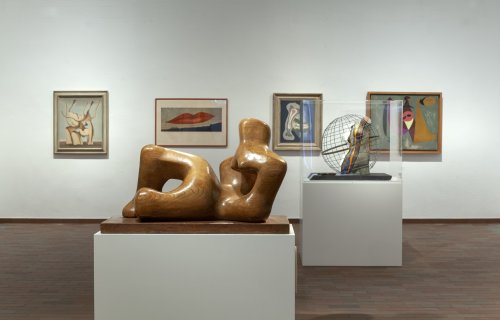 The Fundació Joan Miró presents Lee Miller and Surrealism in Britain, the first exhibition that examines the American photographer's role in the development of the surrealist movement
The exhibition, sponsored by the BBVA Foundation and curated by Eleanor Clayton, was originally produced by The Hepworth Wakefield in collaboration with the Fundació Joan Miró, which now offers an expanded version of the show in its galleries with contributions from Martina Millà, Teresa Montaner and Sònia Villegas, the Fundació's Programming Director, Collections Director and Conservator, respectively.
Through Miller's eye, the exhibition reconstructs one of the least known moments of Surrealism, revealing the connections that existed between the British artists of the 1930s and 40s and the international surrealist network. The nine sections of the exhibition are built around Miller's compelling biography. First a model and muse, she then achieved a successful career in photography, pioneering across the fields of art, fashion and journalism.
Lee Miller and Surrealism in Britain gathers close to 200 pieces, including photographs, drawings, paintings and sculptures, for the first time creating a dialogue between an extensive representation of her photographic work and masterpieces by some of the most prominent surrealist artists, such as Max Ernst, Leonora Carrington, Man Ray, Yves Tanguy, Eileen Agar, Roland Penrose, Paul Nash, Salvador Dalí, Giorgio de Chirico, Joan Miró, Pablo Picasso, Maruja Mallo, Francis Picabia, Àngel Planells and Dora Maar.
The project highlights the fact that Lee Miller, despite being a unique artist, also played a key role and was deeply involved in shaping one of the most vibrant art scenes of the twentieth century.