Paco Chanivet. Interregnum
Exhibition
Interregnum
Artist
Paco Chanivet
Dates
05.07.19 - 08.09.19
Curator
Pilar Cruz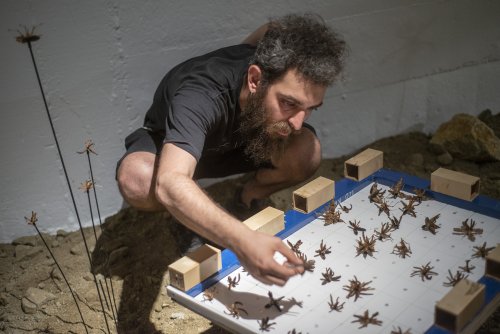 Paco Chanivet addresses the feeling of helplessness arising from cosmic horror to point out the boundaries of our comprehension
Interregnum is an atmospheric experience in which visitors face the vertigo of their inability to understand all that is unfathomable, infinite or aberrant.
In Chanivet's proposal, which closes the series A Monster Who Tells the Truth, conventional reality collapses, giving way to another realm that is different, overwhelming and threatening.
A Monster Who Tells the Truth is the exhibition series held at Espai 13 in the Fundació Joan Miró during the 2018-19 season in collaboration with the Banc Sabadell Foundation. Curated by Pilar Cruz, the project raises questions about the nature of disciplines and the relationships between knowledge and power.