Beatriz Olabarrieta. Faces
Exhibition
Faces
Artist
Beatriz Olabarrieta
Dates
20.12 - 22.03.2020
Curator
Marc Navarro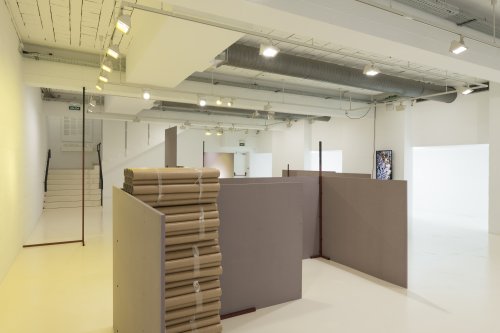 Beatriz Olabarrieta inquires into the multifaceted nature of identity
Faces plants the suspicion in the Fundació Joan Miró's Espai 13 that any act of communication involves translation, and that in this process, faces, much like words, are subject to numerous mutations and interpretations.
The second piece in the Turn It All Turns series consists of an architectural installation with no interior or exterior, without clearly defined faces, a physical experience of confusion that drives visitors towards other instances of defamiliarization.
Turn It All Turns is the Espai 13 exhibition series held at the Fundació Joan Miró during the 2019-2020 season in collaboration with Fundació Banc Sabadell. Curated by Marc Navarro Fornós (Deltebre, 1984), the project examines and develops the notion of defamiliarization, proposing a reinterpretation of our immediate surroundings and the way we relate to them.