Lorea Alfaro and Jon Otamendi. 2020
Exhibition
2020
Artists
Lorea Alfaro and Jon Otamendi
Dates
26.03 - 18.07.2021
Curator
Marc Navarro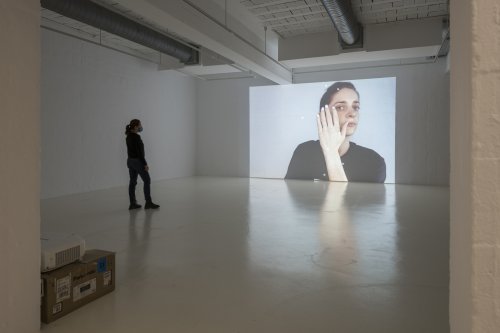 Lorea Alfaro and Jon Otamendi experiment with forms of dissemination and communication in their exhibition 2020.
The project stems from the development of a fragrance to then reveal the impact of industrial processes in the form, content, presentation and distribution of a product. The ways in which olfactory experiences are communicated also help the artists to identify the functionality and limits of language in relation to perception and reality. Evoking parallels as a result of this case study, the final project of the current series in the Espai 13 explores the traces that the conditions of production leave behind on exhibition projects, and the language crises that occur in the attempt to communicate both the object and the artistic experience.
Turn It All Turns is the exhibition series for the 2019-2021 season in the Espai 13 at Fundació Joan Miró, with the collaboration of the Banc Sabadell Foundation. Curated by Marc Navarro Fornós (Deltebre, 1984), the project examines and puts into practice the notion of estrangement, while suggesting a rereading of our immediate surroundings and the way we relate to them.