Miró Universe in Mexico
Venue
Centro Cultural de España en México
Dates
08/10/2021 - 12/12/2021
With the collaboration of
Ministry of Foreign Affairs, European Union and Cooperation, and Abertis and its foundation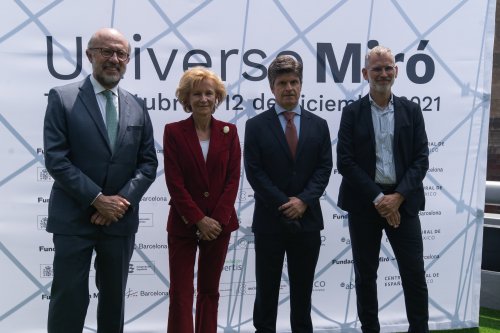 The Fundació Joan Miró and the Fundación Abertis are to open Miró Universe in Mexico, featuring a selection of works by the artist.
The Cultural Centre of Spain in Mexico presents, from 8th October to 12th December, four paintings and one sculpture by Joan Miró, as well as five photographs by Joaquim Gomis, a friend of the artist and first president of the Fundació Joan Miró. This initiative is in line with the mission of the Fundació Joan Miró to disseminate the artist's work internationally, conveying its representational value through a concise, careful selection of paintings and sculpture from his late period.
Miró Universe is to be presented for the first time outside the European Union. Between 2019 and 2021, the Spanish embassies in Rome, Berlin, Dublin, Brussels and Paris hosted Miró Universe thanks to collaboration between the Spanish Ministry of Foreign Affairs, European Union and Cooperation, Abertis and its foundation, and the Fundació Joan Miró.