Claudia Pagès. Banditry
Exhibiton
Banditry
Artist
Claudia Pagès
Dates
10.02 - 16.04.2023
Curators
Yaby (Beatriz Ortega Botas and Alberto Vallejo)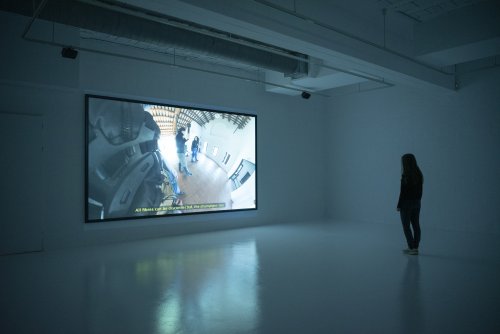 Claudia Pagès opens the 2023 exhibition series in Espai 13 at Fundació Joan Miró
The artist uses video installation to investigate the relationships that exist between power, the construction of history and the material substrates upon which meanings are fixed.
In Banditry, Pagès bases her work on an investigation into stamped paper, watermarks and other marks as tools for identification, legitimisation and control. The concept of taking sides, or bands, runs through her project, which distances itself from the romantic idea of the highwayman and points to the complexity of a phenomenon financed by the nobility that served feudal interests and sustained their power relations.
Fixations per Minute is the new exhibition series at Espai 13, presented by Fundació Joan Miró for the 2023 season in collaboration with Fundació Banc Sabadell. Curated by Yaby, the curatorial team made up of Beatriz Ortega Botas (b. 1990, Oviedo) and Alberto Vallejo (b. 1990, Zamora), the project examines the concept of reading and its relation to current artistic practices through the work of a selection of artists from the local and international scene.