Iki Yos Piña Narváez Funes and Jota Mombaça. The Earthquake Is Intact
Exhibiton
The Earthquake Is Intact
Artist
Iki Yos Piña Narváez Funes and Jota Mombaça
Dates
21.10 - 22.10.2023
Curators
Yaby (Beatriz Ortega Botas and Alberto Vallejo)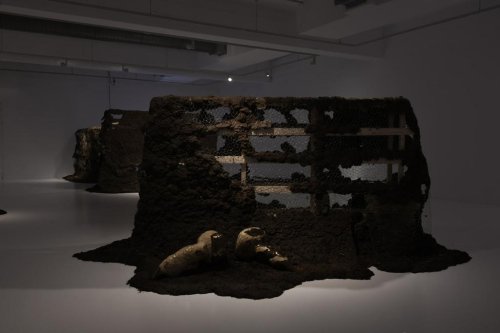 With the exhibition The Earthquake Is Intact Iki Yos Piña Narváez Funes and Jota Mombaça propose a critical rereading of Western colonial narratives
Espai 13 of the Fundació Joan Miró presents the exhibition The Earthquake Is Intact, from 21 July to 22 October 2023. As the continuation of Black El Dorado, in this long-term project the artists question Western narratives on ecology and delve into a rereading of the colonial archive.
Using ceramics and bahareque, a clay-based ancestral construction system, the exhibition is grounded in concepts like recipient and refuge to explore non-alphabetic writing and other processes of material, semantic and symbolic accumulation, displacing the book as a Western colonial construct.
This is the third of four exhibitions in Fixations per Minute, the exhibition series taking place in 2023 at Espai 13 of the Fundació Joan Miró, organised in collaboration with Banco Sabadell Foundation. Curated by Yaby, the series examine the concept of reading and its relationship to present-day artistic practices, through the works of a selection of local and international artists.