Prophetia
Images
To access images of the collection and temporary exhibitions, subject to rights, you must sign in as a professional.
Temporary exhibition
Prophetia
Dates
13/03/2015 - 07/06/2015
Curated by
Imma Prieto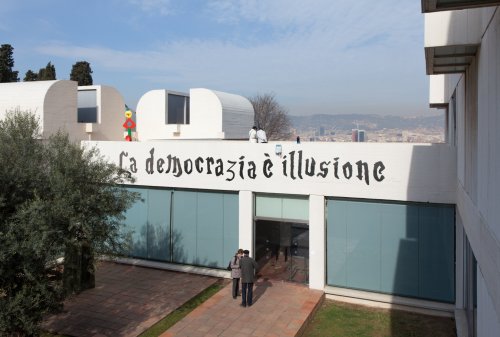 The Fundació Joan Miró presents Prophetia, a reflection on the idea of Europe from the perspective of the current social, political and economic situation.
The exhibition brings together works by twenty-four artists from different countries and generations such as Jimmie Durham, Anri Sala, Daniel G. Andújar, Chus García-Fraile, Mateo Maté, and Antoni Muntadas. The selection includes new works by Núria Güell, Pelayo Varela, Jorge García and Eugenio Ampudia, Filipa Cesar, Avelino Sala, Jordi Colomer and PSJM, and is the first time that works by Peter Schrank, Kostas Bassanos, Renata Poljak, Per Kristian Nygard, Marco Fedele di Catrano, Goldschmied&Chiari, Hannelore Van Dijck, Stefanos Tsvilopoulos and A K Dolven are shown in Spain.
The project is complemented by a publication that includes texts by Bojana Kunst, Ingrid Guardiola and Srećko Horvat, among others.