Eva Kot'átková. Training in Ambidexterity
Images
To access images of the collection and temporary exhibitions, subject to rights, you must sign in as a professional.
Exhibition
Eva Kot'átková. Training in ambidexterity
When
19/06/2015
Where
Espai 13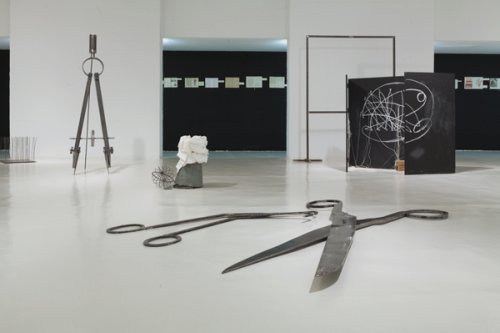 The Fundació Joan Miró presents Training in Ambidexterity, a project by Eva Kot'átková at Espai 13.
From the forced training to use both hands to write or draw, Eva Kot'átková investigates any type of structure that tries to educate and classify individuals in different fields, such as education, culture or psychiatry. The exhibition juxtaposes two conflicting aspects that characterise art classes: on one hand they seek to offer a space of freedom for the imagination, and on the other they are conditioned by the limits inherent to the academic context. The installation becomes alive with performative actions based on a choreography that fuses object and body by Almudena Pardo. These sessions will take place on the opening day, on June 30 from 11 am to 1 pm and on July 12 from 11 am to 1 pm.
Training in Ambidexterity will be on show from 18 June to 6 September 2015 as part of the Lesson 0 programme curated by Azotea (Ane Agirre and Juan Canela). In the 2014-2015 season, Espai 13 invites us to think about the current state of art education and to explore new ways of generating and transmitting knowledge. Priscila Fernandes, Rita Ponce de León, Anna Craycroft / Marc Vives in collaboration with Rivet have been the other artists featured in the Lesson 0 programme. The four projects are activated through the mediation programme Fiction Pedagogies, wich is conducted by Aida Sánchez de Serdio, Cristian Añó (Sinapsis) and Rachel Fendler.