When Lines are Time
Images
To access images of the collection and temporary exhibitions, subject to rights, you must sign in as a professional.
Exhibition programme
When Lines are Time
Dates
02/10/2015 - 11/09/2016
Curated by
Martí Manen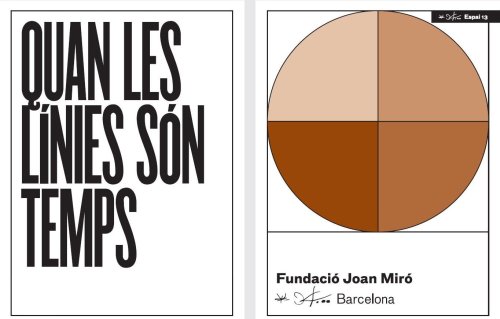 When Lines are Time is a project curated by Martí Manen (Barcelona, 1976) that explores aspects related to temporality and production in artistic practice. Creating a dialogue between complementary elements, the 2015-2016 exhibition series at the Fundació Joan Miró's Espai 13 explores the connections between the different stages of artistic creation: research, the development and formalisation of a project, production, and the presentation of the final work.
The title of the series is inspired by a Joan Miró triptych entitled Painting on White Background for the Cell of a Recluse (1968), consisting of three white canvases with a dynamic black line running through them which, to Manen, evokes the temporal, progressive dimension of the artwork.
Rubén Grilo, Sofia Hultén, El Palomar (Mariokissme and R. Marcos Mota) and Rosana Antolí are behind the artistic projects, in which the notion of time is a key element.
In conjunction with the exhibition series, a symposium will be organised in collaboration with Bonniers Konsthall in Stockholm, with the participation of representatives from leading modern and contemporary art centres and museums in Europe and the United States. This symposium, which will take place in spring 2016, will offer an opportunity to consider and reconsider how to work with the time of art.