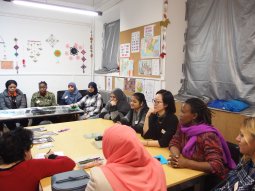 Latent voices
Latent Voices is a project that seeks to lend a voice to the women taking part. They are women who have recently arrived in Catalonia, and through the language classes they receive at the Intercultural Association Diàlegs de Dona, little by little they are able to make themselves understood and to communicate. Thus a knowledge of the language opens the door to integration and participation in our society.
In the same way, Latent Voices aims to serve as a vehicle of expression - in this case through image - of the desires and concerns of these women.
Activity canceled

about "Latent voices"