Creative consciousness (II). Debora Prem Deva, Kundalini yoga
On-site activity

From the very beginning, Miró's work was a steadfast path towards the harmonious connection between his 'self' and external forces. His work is full of enigmas, which led him from the most rigorous fine detail to a gradual stripping away of forms. Painting (The Bottle of Wine) (1924) is an example of that. The realism and fine detail of some of the compositional elements contrasts with the dreamlike world being intimated. The work is especially interesting because it serves as a link between two key moments of Miró's artistic career: the period of fine detail, and contact with surrealist poets and writers.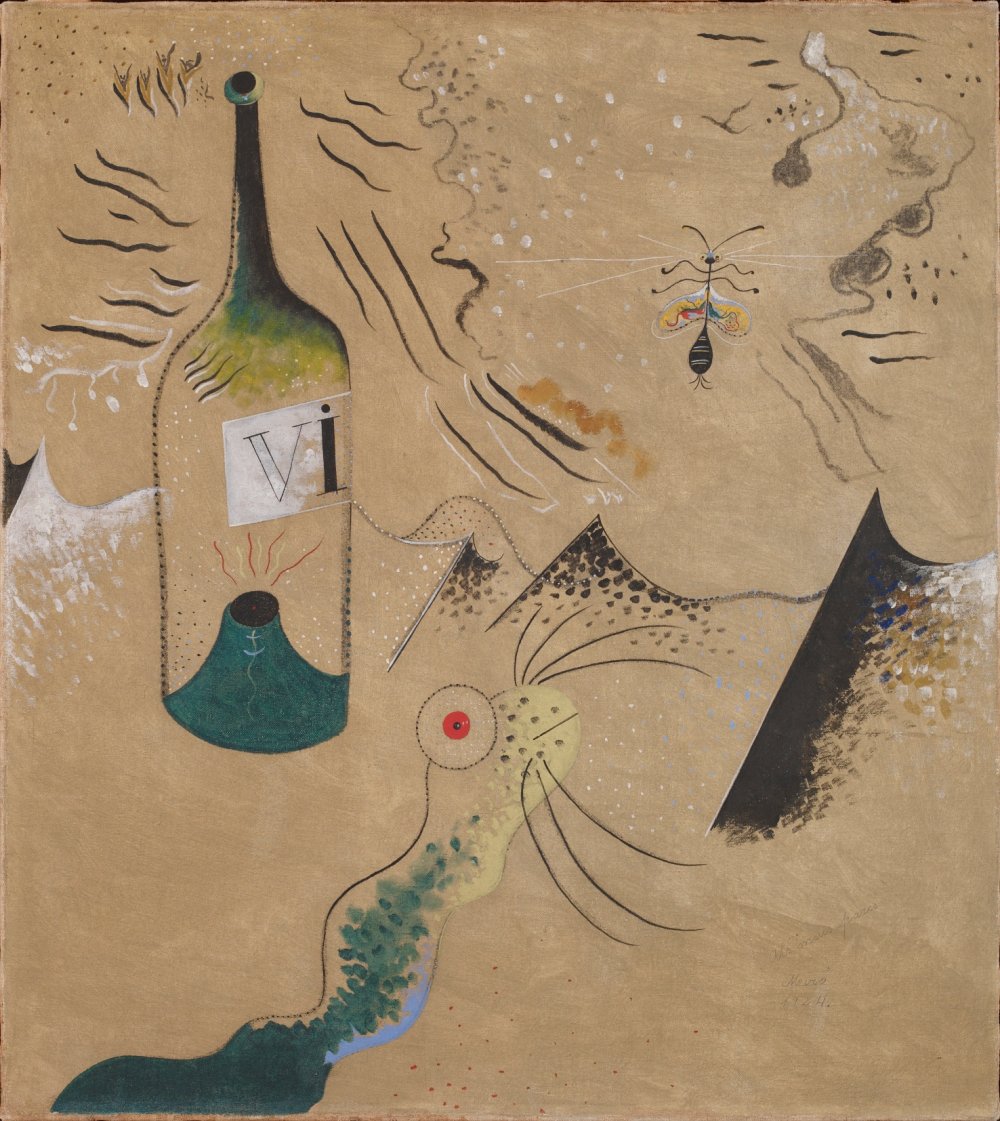 The bottle of wine, a classic element of still lifes, is integrated into an unsettling landscape. Inside the bottle is a smoking volcano, the telluric force par excellence; it may represent contained energy, longing and dreams subjected to rationality. The snake or reptile crosses the composition diagonally, from bottom to top, in search of something. At the top, there are turbulent elements. An agitated sky can bring changes. Painting (The Bottle of Wine) evokes the shift that takes place within Miró from the 1920s, between the fine detail of his youthful years and the unleashing of his plastic language, favoured in part by meeting surrealist poets and writers.
Kundalini yoga. This style of yoga connects with Miró's work in the sense that it also allows inner energy to be released and channelled. The practice of Kundalini yoga awakens the energy of our bodies, which yogis visualise as a coiled serpent whose nest is at the base of the spine. The serpent must move upwards to the crown. In our bodies, energy moves through 'rivers or nadis'. For energy to flow, different techniques are used, such as the 'breath of fire', asanas, bandhas, mudras, meditation and mantras.
Debora Prem Deva is a practitioner and teacher of Kundalini, Hatha Raja and Yin yoga. After the first traditional yoga learnings and the first training as a yoga teacher, she has furthered her studies in Kundalini yoga. At the same time, she has continued to train in Hatha Dharma yoga. Her most recent research was a return to aspects that are more Yin, by practicing and delving deeper into Yin yoga and its roots in Taoism and traditional Chinese medicine.
Become a Friend of the Fundació Joan Miró and get your discount for the yoga sessions! You'll also have the chance of participating in the draw of a very special yoga mat.
Follow this activity on social media
Duration
1 hour 30 minutes
Place
Room 3
Dates
10 and 23 February 2023, from 6 to 7.30 pm
Price
12 € per session, 10 € Friends of the Fundació Joan Miró
Capacity: 25 people
Supporting material
Participants must bring a yoga mat and a light blanket.
They are also advised to wear comfortable clothing.
Reservations