Genius Loci
Dates

—

Curated by

Martina Millà
Designed as a stroll along the different tracks of an album, Genius Loci is a cross between the experience of listening to a museum audio guide and listening to songs on an iPod or an mp3 player.
The Joan Miró Foundation will feature ten different spaces, each devoted to a group and to a song. Upon entering each room, the visitors' audio guide starts playing and the song or the track assigned to the space is heard. Each group presents a proposal associated with the current moment of its creation and completed with an installation or a specific scenic design.
The selected musicians are introduced as conceptual artists, both because of the content of their music and of the way in which they are introduced and they present themselves. All the artists have their own strategies, which involve reflection on what it currently means to be a musician in Barcelona. For some, this reflection is manifest in the staging, for others it is in the song lyrics or in recording strategies, and for yet others it is in their completely open tendency to cross artistic disciplines. They are not only musicians, but also heirs to Marcel Duchamp and to Andy Warhol.
The exhibition features the participation of Els Amics de les Arts, Hidrogenesse, Illa Carolina, Internet2, Manos de Topo, Mishima, Mürfila, Standstill, The Pinker Tones and Za!
The title, Genius Loci, alludes to the protective spirits that the ancient Romans associated with each city and invites reflection both on the antiquity of modernity and on the idiosyncratic nature of each creative context, which in this case is Barcelona. It also refers to the globalisation of pop music, because Rome was the first model of cultural imperialism with which we are familiar.
Special audio guides, a programme published in Braille and a map printed in relief enable blind visitors to enjoy the exhibition.
Press Conference on: http://vimeo.com/20829169
This exhibition doesn't end here. Follow the installation and its progress at: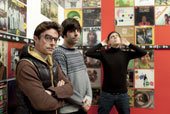 Related links
In collaboration with: