Monument. Wire Thieves
Monument. Steel Wire Snatchers is an exhibition experiment based on the combination of three very distinct research sources: Outside Art practices, rituals of popular culture and 20th century Catalan sculpture. Jordi Mitjà uses, as a point of departure, the recent demolition of the Parc de Can Sis Rals d'Argelaguer —located in the region of the Garrotxa— by Josep Pujiula, the person that has been building it up for more than thirty years, and a clear example of marginal art in Catalonia.
For Monument. Steel Wire Snatchers, the artist produces a sculptural grouping specifically designed for Espai 13. Using recycled construction materials, Mitjà builds an atelier that will serve both as workplace and exhibition. Three concrete zones of activity establish a space in continuous development: a handcrafted wall, a stage, and a separate room closed to the scrutiny of the public.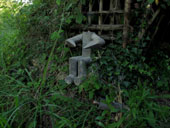 Related links