The Nipple Slip Speech Performance
Through a fragmented narrative that follows the media hype of Nipple Slip phenomena, Gabriel Pericàs chooses to analyze different aspects related to absent-mindedness and mental lapse, and achieve a progressive approach to the accidental through a collection of little sculptures, photographs and videos.
The Nipple Slip Speech Performance is developed as a speculative narrative that aims to explore the concept of distraction and that of shifting attentiveness. Such play on perception turns those things that seem secondary, or those that not deserve being manifested, into high-ranked information, thus, canceling the importance of any other message.
The central part of the exhibition is a video projection in slow motion that shows a woman giving a lecture while, all of a sudden, a strap of her dress snaps exposing one of her breasts momentarily. The slowing down of the incident turns the mishap into an extended narrative, one that makes evident the surreptitious gaze of the viewer forced to witness such involuntary form of exhibitionism.
To complete the exhibition, one intervention makes reference to the fetishistic cult of the feminine foot, and another presents a series of photographs of wedges holding doors that the artist has taken during the past years.
The Nipple Slip Speech Performance follows, in short, a fragmented and non-linear development that is built around a group of seven accidentally related pieces that turn what seems secondary into main information.
The project comes to completion with a performance by Gabriel Pericàs on January 24th, 2013, at 19:00h. For this occasion, the artist will give a lecture that pretends to act as speculative, biographical and an anecdotal guide to the different themes of the show.
On January 24th, the publication The Nipple Slip Speech Performance will be launched.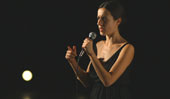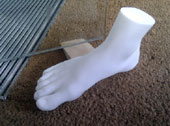 Related links
In collaboration with: