Death of A
Exhibition program

Author

Kandis Williams

Dates

—

Place

Espai 13

Curated by

Yaby (Beatriz Ortega Botas and Alberto Vallejo)
Williams' work is based on an extensive and deep trawling of the archive and takes the form of a collage of different media (paper, sculpture, video). She decontextualises and recontextualises images related to various cultural discourses around race, nationalism, authority and eroticism, building complex assemblages that reveal friction between the narratives and the bodies that are read through them.
Her proposal for the Espai 13 exhibition series is Death of A, a four-channel film that revisits the play Death of a Salesman by Arthur Miller, adapted by Williams and almost transformed into a monologue performed in an abstract space that seems like it could be a photography studio. Death of A makes use of U.S. theatre conventions and investigates certain themes already raised in Miller's work, such as frustration, failure, fatigue, despair and disappointment in the American dream.
In addition to the theatrical text, Williams includes excerpts from cultural theorists and archival footage related to the history of war and entertainment, police and media violence, extractivism and commodification, expanding on Miller's Marxist view. As the visual narrative progresses, more and more layers of physical and cultural violence accumulate, forming a huge environmental burden borne by the Black actor who embodies the protagonist.
Kandis Williams (Baltimore, 1985)
Lives and works between Los Angeles and New York. Received her BFA from The Cooper Union (NY, 2009). Kandis Williams' practice spans collage, sculpture, film, performance, writing, publishing and curating. She explores and deconstructs critical theory around race, nationalism, authority and eroticism. Her work examines the body as a site of experience while drawing upon her background in dramaturgy to envision spaces that accommodate the varied biopolitical economies, which inform how form and movement might be read. Kandis Williams is also founder and editor of Cassandra Press, a publishing and educational project focused on femme-driven activism and Black scholarship. Williams has recently exhibited her work at the Whitney Biennial (New York), 52 Walker (New York), The Museum of Modern Art (New York), the Institute for Contemporary Art at Virginia Commonwealth University (Richmond), among others.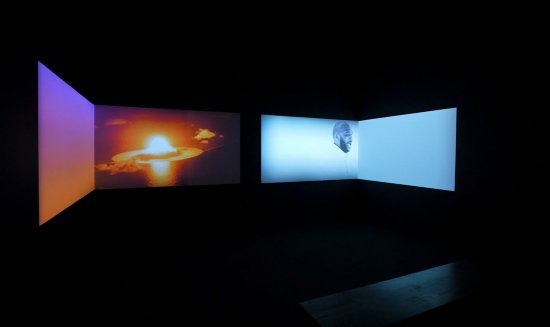 Follow this exhibition on social media
In collaboration with: