Olafur Eliasson. The nature of things
Dates

—
The Joan Miró Foundation and the Fundació Caixa Girona present "The nature of things", an exhibition by the Danish-Icelandic artist Olafur Eliasson, winner of the 1st Joan Miró Prize in 2007.
This will be the first major showing of the artist's work in Spain. The 50 artworks in the exhibition exemplify his output from 1993 to the present, including new works produced specifically for the Joan Miró Foundation. The photographs, sculptures and large-scale installations examine the relation between visitors, museum spaces and works, while enhancing the awareness of sensorial experience.
The exhibition is divided into two parts: at the Centre Cultural Caixa Girona-Fontana d'Or in Girona, Eliasson will show smaller works produced with light as well as numerous photographic series and prints, investigating the rugged and varied landscape of his native Iceland, while the Barcelona exhibition will include installations that explore the perception of light, colour, space and the ephemeral "nature of things" through physical experimentation.
The work of Eliasson, born in Copenhagen in 1967, centres on the study of sensorial perception, often deploying natural phenomena. Eliasson recontextualises elements such as light, water, ice or mist in order to create special situations that alter the viewers' perception of space and themselves. Merging nature and culture, he transforms the exhibition areas into a hybrid space, thus suggesting a firm commitment to the world around him and reflections on contemporary life. The complexity and diversity of his art have placed him in a significant position on the current artistic scene. Last year, he was awarded the Joan Miró Prize for his achievements as one of the leading artists of our time and for his innovative, exploratory spirit, commitment and freedom - qualities which also characterised Miró's art. Eliasson's new works for the exhibition at the Miró Foundation have as their starting point a reflection on Miró's work and thinking: poetry, and the reconfiguration of space and colour.
Eliasson has exhibited in major art museums worldwide. In April 2008, "Take your time: Olafur Eliasson", a mid-career survey originating at the San Francisco Museum of Modern Art, opened at the MoMA and PS1 Contemporary Art Center in New York, where Eliasson is also preparing "The New York City Waterfalls", a temporary public art project in Manhattan, Brooklyn and Governor's Island, set to open in July.
"The nature of things" will be open from 20 June to 28 September at the Fundació Joan Miró and from 18 July to 4 September at the Centre Cultural Caixa Girona-Fontana d'Or. The opening in Girona will include the launch of the exhibition catalogue containing images of the new works and contributions by Carles Guerra and others.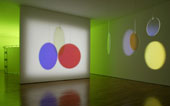 In collaboration with: