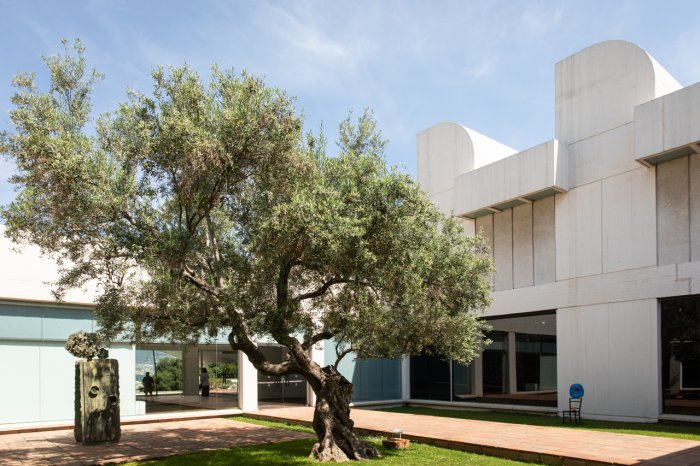 Board of Trustees
The Fundació Joan Miró is a private foundation represented and governed by a Board of Trustees made up of representatives from the world of business and the arts in Catalonia, the Catalan Government, Barcelona City Council and the Spanish Ministry of Culture.
President
Sara Puig Alsina
Vice-president
Ana Vallés
Secretary
Josep M. Coronas Guinart
Trustees
Ignasi Aballí, Frederic Amat Noguera, Francisco Copado, Lola Fernández Jiménez, Jordi Foz, Laia Gasch Casals, Maria Eugènia Gay Rosell, Sònia Hernàndez Almodòvar, Elena Juncosa, Akiko Katsuta, Ariane Lelong-Mainaud, Robert Lubar Messeri, Rosa Maria Malet Ybern, Xavier Marcé Carol, Andreu Mas-Colell, Rafael Pardo, Carol Portabella, Eva Prats Güerre, Joan Punyet Miró, Isaac Sastre de Diego, Odette Viñas Gomis.
Trustees emeriti
Josep Colomer Maronas, Jaume Freixa Janariz, Joan Gardy Artigas, Kazumasa Katsuta, Daniel Lelong.
Internal departments
Director
Marko Daniel
Managing Director
Mària Vallés
Secretary to the Director
Graziel·la Cuairan
Melanie McPherson
Miró-Picasso
Sònia Villegas
Artistic Department
Ana Ara
Collections
Teresa Montaner
Elena Escolar
Ingrid Fontanet
Jordan Sánchez
Conservation
Elisabet Serrat
Toni Esparó
Exhibition Office
Martina Millà
Ester Ramos
Dolors Rodríguez Roig
Véronique Dupas
Ramon Balcells
Loida de Vargas (external collaborator)
Production and Registrar
Jordi Juncosa
Ester Rabert
Imma Carballés
Enric Gili
Roxana Gazdzinski (external collaborator)
Publications
Magda Anglès
Gemma Gallardo
Public programming and education
Jordi Joan Clavero
Noemí Tomàs
Mercè Jarque
Montse Quer
Gemma Cervera
blanca arias (external collaborator)
Marc Esquirol (external collaborator)
Communication and Marketing
Rosa María Jiménez
Press
Amanda Bassa
Alba Gómez
Helena Gràcia (external collaborator)
Brand
Anna Noëlle
Laura Rodríguez Sentís
Gisela Martin (external collaborator)
Publics
Mercè Sabartés
Digital
Dani Zapater
Financial Management Department
Eric Leroux
Managment control
Xavier Pont
Management
Patricia Bonet
Astrid Dachs
Susana Martínez (external collaborator)
Archive
Pedro Larrègle
Infrastructures
Ramon González
Xavi Ortiz
Sergi Safont
Javier Rajoy
Beniamin Sabadus
Audiovisual production
Jorge Bravo
ICT
Josep Ciller
Development Department
Mar Núñez
People Management Department
Merche Rey
Pilar Jiménez (external collaborator)
Business Department
Bookshop and shop
Mercè Híjar
Maria Acosta
Irene Agüí
Dèlia Bureta
Ana Belascoain
Anna Felip
Alícia González
Pablo A. Iglesias
Xavi Jiménez
Federico Mihura
Nicolau Mallofré
Albert Salvador
Barbara Rossi
Juli Tobaruela
Isabel Vidal
Restaurant
Oriol Egea
Ana Rosa Amorós
Álvaro Benito
Hortensia Contreras
Sagrario Fernández
Juan Carlos Hernández
Demian Lozano
Belén Reguera
Aleix Rodes