Art de foc, art de badoc
Images
To access images of the collection and temporary exhibitions, subject to rights, you must sign in as a professional.
Authors
Rafel G. Bianchi and Regina Gimenez
When
26/11/2015 - 10/01/2016
Where
Restaurant of the Fundació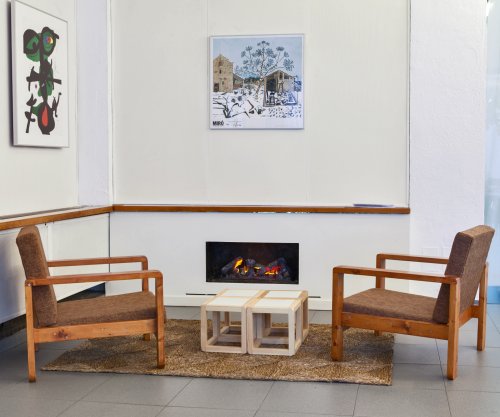 Fundació Joan Miró presents the Nadala for 2015, Art de foc, art de badoc, an installation that plays with the domestic connotations of Christmas.
Rafel G. Bianchi and Regina Giménez explore the role of the fireplace in the traditional winter festivities with an installation that can be visited in the restaurant of Fundació Joan Miró, and recreates a fireplace in the home at Christmas time. Above it hangs a print of Joan Miró's work The farm (1921-1922), which the artists have altered, creating a snowy landscape. Bianchi and Giménez use humour and irony to expose the ways in which social narratives are constructed and function, based on an analysis of some Christmas traditions.
The Nadala is a project commissioned by the Fundació Joan Miró that links local artists with the end-of-year festivities. Around this period, the Fundació hosts an installation especially created by an artist, who offers his or her interpretation of a theme associated with the Christmas period. Since 2007, the Fundació has exhibited the creations of Perejaume, Ignasi Aballí, Tere Recarens, Antoni Llena, Fernando Prats, Jaume Pitarch, Eulàlia Valldosera and Fina Miralles.