Lesson 0 and "Y el arte?"
Launch
What
Lesson 0 and Y el arte?
When
11 de febrero de 2016, 19 h
Where
Jacques Dupin Library, Fundació Joan Miró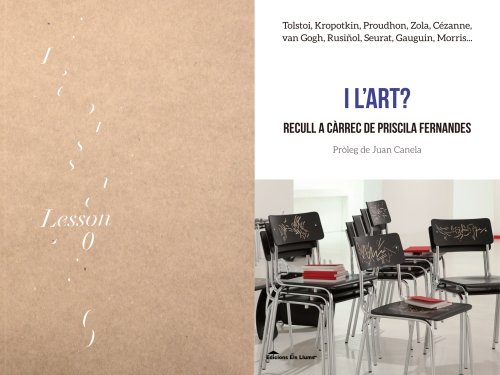 The Fundació Joan Miró presents the conclusions of the Espai 13 series Lesson 0 with the launch of two publications at the Jacques Dupin Library
The volume produced in conjunction with Lesson 0 covers all the activities and exhibitions carried out as part of the project curated by Juan Canela and Ane Agirre for the 2014-2015 season at Espai 13. It will be presented along with I l'art? / ¿Y el arte?, a compilation of texts on artistic education edited by Priscila Fernandes for her project in the Lesson 0 series and published by Edicions Els Llums / Ediciones La Lluvia.
The launch will take place on Thursday 11 February at 7 pm at the Jacques Dupin Library, with the participation of Martina Millà, Head of Programmes and Projects at the Fundació Joan Miró; Juan Canela and Ane Agirre, curators of the series; Aida Sánchez de Serdio and Cristian Añó, organisers of the Friction Pedagogies programme, and artists Marc Vives and Antonio Gagliano, who participated in the series and the publication, respectively, as well as the book's designer Priscila Clementti, and its publisher Joan Ramon Riera.