Joan Miró. Collection
Permanent Exhibition
Joan Miró. Collection
Where
Fundació Joan Miró
When
From 9 April 2016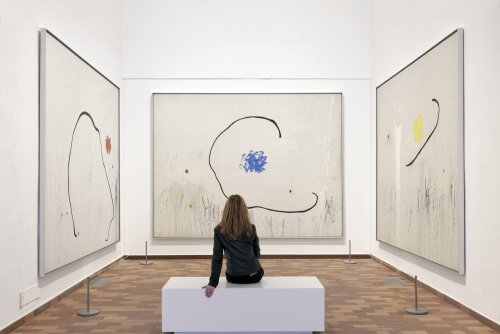 The Fundació Joan Miró presents a new approach to its collection
As the culmination of its 40th anniversary, the Fundació Joan Miró is updating its permanent exhibition in order to offer visitors a multifaceted approach to the artist's work. The public will discover the creative complexity of an artist who, grounded in a strong connection to his origins, became a universal figure.
The collection is now enriched with the addition of new works in large part from the Miró family, the integration of the Kazumasa Katsuta collection that had previously been housed in a separate gallery space, and the recovery of some key pieces from the Fundació's holdings, such as the triptychs Painting on white background for the cell of a recluse (1968) and The hope of a condemned man (1974), or the Barcelona Series, among others. The permanent exhibition now includes some 150 works presented in eight sections that highlight different aspects of the artist's creative investigations. Closing the exhibition is a new multimedia room that explores Miró's universe through a mural that takes the form of a conceptual constellation.
The exhibition occupies an area of 1,558 m2 and is located in the galleries conceived by Joan Miró and architect Josep Lluís Sert to house the collection, and which were expanded in 1988 by Jaume Freixa. The display enhances the unique dialogue between art, architecture and landscape that characterizes the Fundació.
On 9 April a free activities programme to mark the inauguration of the new permanent exhibition will begin. Under the theme Fes-te-la teva! (Make it yours!), and as a way of introducing the public to this new presentation, we have designed a picture album featuring the collection's most outstanding works and created the website albummiro.cat.