Martin Llavaneras. Fruit Belt
Art Nou Award, 2017
Exhibition
Fruit Belt
Artist
Martin llavaneras
Dates
14/07-11/09/2017
Curator
Jordi Antas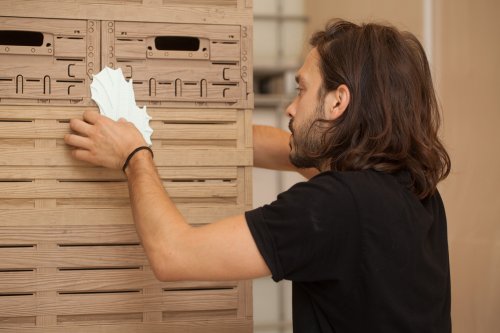 The Espai 13 of the Fundació Joan Miró presents Fruit Belt, an exploration of the dividing barriers between the human species and its environment, by Martin Llavaneras, distinguished with the Art Nou Award, 2017.
Using techniques designed to control the ripening of fruit, the artist develops a conceptual and sculptural essay on the life cycles of primary source materials and the relationships we have with them.
Curated by Jordi Antas, the exhibition is part of the exhibition series One Foot Out: Expeditions and Diasporas, held at the Espai 13 of the Fundació Joan Miró for the 2016-2017 season. It has been organized with the collaboration of the Fundació Banc Sabadell. The series is a reflection on questions of pertinence, continuity and the rupture of the established model in the Barcelona art scene.