Sumer and the Modern Paradigm
Images
To access images of the collection and temporary exhibitions, subject to rights, you must sign in as a professional.
Temporary exhibition
Sumer and the Modern Paradigm
Dates
28/10/2017 - 21/01/2018
Curated by
Pedro Azara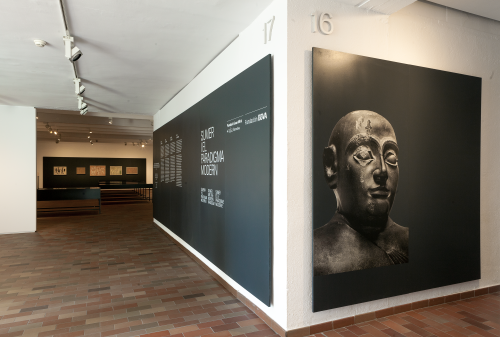 The Fundació Joan Miró presents Sumer and the Modern Paradigm, an exhibition that explores the attraction and influence that the arts of Lower Mesopotamia exerted on some of the leading artists of the twentieth century.
The exhibition, sponsored by the BBVA Foundation and curated by Pedro Azara, takes as its point of departure the important archaeological findings excavated from sites in what is currently southern Iraq during the interwar period. With some fifteen of these relevant ancient objects from the most prominent public and private collections in Europe, and over one hundred documents, including photographs, books, catalogues and magazines, the exhibition reconstructs the fascinating process these archaeological remains underwent from being perceived as ethnographic artefacts to being appreciated as works of art.
Sumer and the Modern Paradigm connects this group of pieces with over sixty modern and contemporary works-paintings, sculptures, engravings, and videos-by artists such as Willem de Kooning, Alberto Giacometti, Joan Miró, Willi Baumeister, Henry Moore, Barbara Hepworth and Le Corbusier. Visitors will experience the powerful impact that these discoveries had on some of the leading figures of twentieth-century art and will be able to follow the traces they left in the development of artistic language from modernity up until today.