Scars remind us that our past is real
Images
To access images of the collection and temporary exhibitions, subject to rights, you must sign in as a professional.
Temporary Exhibition
Scars remind us that our past is real
Dates
15/06 - 30/09/2018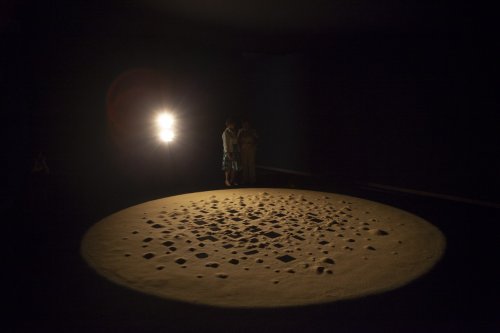 The Fundació Joan Miró and Obra Social "la Caixa" present Kader Attia's exhibition Scars Remind Us that Our Past Is Real
Kader Attia awarded with Joan Miró Prize 2017, Elisa Durán, Deputy Executive Officer of "la Caixa" Banking Foundation; and Marko Daniel, Director of Fundació Joan Miró presented in a press conference the exhibition, a project signed by the artist that invites visitors to gradually learn about the main concepts in his work. The relationship between architecture and colonial history, the marks of the past on the skin of history like wounds on a body, the concept of repair and the cathartic role of art are some of the key themes in the work of Kader Attia that are reflected in the exhibition.
Scars remind us that our past is real gathers over twenty pieces, including photographs, videos, altered objects, sculptures and installations. The artist sets up a dialogue between some of his most salient works from the last few years and new pieces such as a stainless steel sculpture shaped in the Fundació Joan Miró rooms or the three-screen video installation Héroes heridos, filmed primarily in Barcelona, a document shot in Barcelona that gathers the testimonies of people and organisations that are committed to a variety of social issues.
Kader Attia is the winner of the 2017 Joan Miró Prize, a biennial award granted by the Fundació Joan Miró and Obra Social "la Caixa", with a 70,000-euro cash prize and an invitation to show the artist's work in 2018.