Turns It All Turns
Exhibition series
Turns It All Turns
Dates
19/09/2019 - 06/09/2020
Curator
Marc Navarro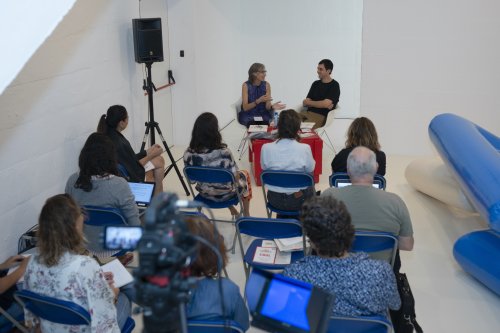 Turn It All Turns, Espai 13 exhibition program 2018-2019 at Fundació Joan Miró
Marc Navarro, curator, and Martina Millà, head of exhibitions department of the Fundació, have resented Turn It All Turns, the exhibition program for Espai 13, Fundació Joan Miró, for the 2019-2020 season, in collaboration with Fundació Banc Sabadell.
The project examines and develops the notion of defamiliarization while offering a reinterpretation of our immediate surroundings and the way we relate to them. The series experiments with languages and seeks to elicit a critical approach that will enable us to question the codes that condition our perception.
Not only our responses to certain stimuli, but also the circulation of ideas and the physical and cultural understanding of reality often lead us to surrender to automatisms that are difficult to detect. Turn It All Turns focuses on forms of communication that resist these automatisms, play with meaning and move events out of their usual contexts. The series invites us to put our senses on hold and venture into an area of uncertainty where the artists move beyond conventions to establish a dialogue with the space that hosts their pieces.
Turn It All Turns includes four exhibition projects by Laia Estruch, Beatriz Olabarrieta, Julia Spínola and Lorea Alfaro-Jon Otamendi, and an education project led by Victor Ruiz Colomer.