The Point of Sculpture
Temporary exhibition
The Point of Sculpture
Dates
15/10/2021 - 06/03/2022
Curated by
David Bestué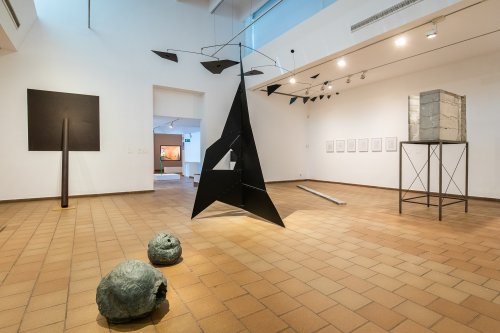 The Fundació Joan Miró presents The Point of Sculpture, an analysis of the emergence and evolution of modern and contemporary sculpture
The exhibition, conceived by curator and sculptor David Bestué, addresses the major transformation that the practice of sculpture has undergone in the twenty-first century, while also taking stock of the impact that the origins of the discipline continue to exert on artists today. Sponsored exclusively by the BBVA Foundation, The Point of Sculpture traces a unique genealogy between these two moments through seven sections that offer an exploration of the boundaries of representation and the quest for the zero degree of sculpture.
The exhibition gathers over one hundred pieces which explore, among other aspects, the concept of a copy, materiality, the space between subject and object, and the representation of the human body as the foremost challenge in the discipline of sculpture. The selection spans a long arc of time, beginning in the pre-modern era and primarily addressing the period from the early twentieth century until today, with pieces by sixty-five artists from all over the world. Among these are Antoni Gaudí, Julio González, Alexander Calder, Joan Miró, Lygia Clark, On Kawara, Bruce Nauman, David Medalla, Eva Lootz, Susana Solano, Pipilotti Rist, Marisa Merz and Sarah Lucas.
The Point of Sculpture catalogue includes a curatorial text by David Bestué; relevant essays on the subject by Mario Carpo, Jane Bennett, Ester Pino, Julia Spínola, Aimar Arriola and Maite Garbayo; an interview with the sculptor Susana Solano conducted by the curator; and an epilogue by Martina Millà. The varied public programming associated with the exhibition also includes a small-format show on bronze casting, one of Miró's preferred techniques for producing his sculptures.