Fundació Joan Miró has received the donation of a Miró sketch for a temporary mural
Images
To access images of the collection and temporary exhibitions, subject to rights, you must sign in as a professional.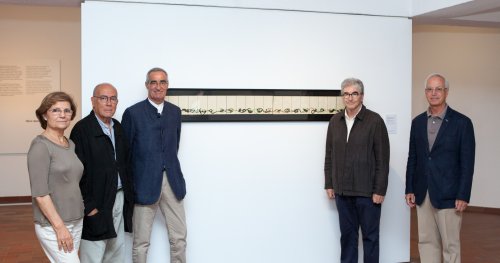 Fundació Joan Miró has received the donation of a Miró sketch for a temporary mural that the artist carried on the windows of the Association of Architects of Catalonia and the Balearic Islands (COAC) in 1969.
The architects Cristian Cirici, Pep Bonet and Lluís Clotet, founding partners of Studio PER, have endorsed the donation of this preliminary drawing for a work-action in conjunction with the exhibition Miró otro. The sketch, in wax crayon and ink on paper, measures 15.5 by 176 cm, and consists of 21 parts. The definitive work was conceived by Miró to be painted directly onto the windows of the COAC building, and erased when the exhibition ended.
During the signing of the donation agreement at the Fundació Joan Miró, its president Jaume Freixa and director Rosa Maria Malet thanked Cirici, Bonet, and Clotet for their generous gesture. Initiatives such as these, along with the planned arrival of further loans over the coming months, allow the Fundació to continue to enhance the extensive holdings that make it a leading international centre for Miró research.