Memory in Our Hands
Exhibition program

Author

Vanesa Varela

Dates

—

Curated by

Pilar Cruz
Vanesa Varela takes the waist loom, a preindustrial tool, as her starting point for reflecting on modes of production, the concept of work and the generation and passing-on of knowledge. This ancient loom links the body of the weaver with nature and reconciles textile making with the human scale. By rejecting the industrial mode of production, it is the body, rather than an alienating and injurious method of manufacturing, that imposes its form and movement on fabric.
In addition, the project reflects on how the inherited memory of the body and of its movements connects us with the most organic way of being in the world, resituating the things we deem to be of value.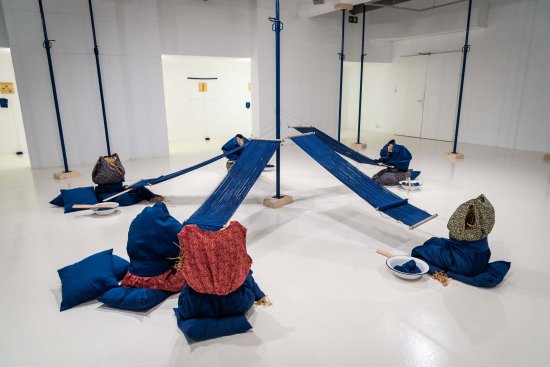 Follow this exhibition on social media
Sunday 13 January at 11 am
Collaborative workshop prior to the exhibition
Thursday, 17 January at 7 pm
Opening performance by María Roja
Sunday, 10 February from 11 am to 1 pm
Introduction to backstrap loom weaving. Workshop for all ages.
Press Office