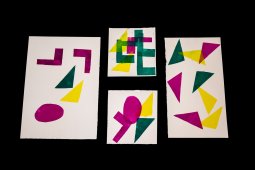 A pochoir exhibition at home
Coinciding with the exhibition Miró-ADLAN. An Archive of Modernity (1932-1936), we want to offer you a special Creative Families activity based on the works that Miró made with a pochoir or stencil technique. We also encourage you to set up your own little exhibition at home (in the entrance, the dining room or in a bedroom, for example), design an invitation, and invite whoever you want to come and see it.

about "A pochoir exhibition at home"